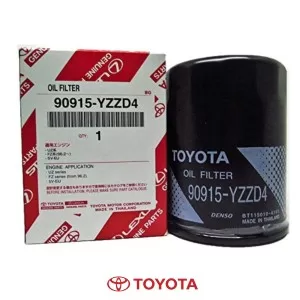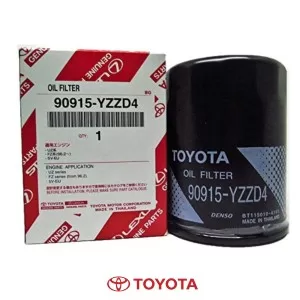 TOYOTA Engine Oil Filter _ 90915-YZZD4
﷼3,500,000
Request for Quotation!
Made in PRC
Description
Additional information
Reviews (0)
Specifications / Specifications and Approvals:
Fitment:
Description
Product Description:
In order for modern combustion engines to function properly, they must be continuously lubricated. The oil required for this circulates under pressure to minimize friction between various metal components, e.g. bearings or camshafts. Oil filters ensure that the engine oil remains free of dirt particles, soot, or residues of burnt fuel thus preventing damage.
Product Information
Absolute accuracy of fit and stability
Best possible separation values
Strict quality standards
Compliance with the requirements of vehicle manufacturers
Engine Oil Filter Failure Symptoms
Crumbling Filter Media
Torn Filter Media
Excessive dirt and contaminants in oil
Engine Failure
Additional information
| | |
| --- | --- |
| Weight | 0.289 kg |
| Dimensions | 7.9 × 7.85 × 10.20 cm |
| Brand | Toyota Motor Corporation |
| Color | Red, White |
| Package | Unit |
For OE number: 90915-YZZD4
Filter type: Spin-on Filter
Height [mm]: 102.0
Seal Diameter [mm]: 61.7
Connecting thread: 3/4″-16UNF-2B
Article number of the recommended special tool: OCS 1
Supplementary Article/Info 2: with one anti-return valve
Diameter [mm]: 75.0
Diameter 2 [mm]: 71.0
Valve type: Overflow Valve
Tightening Torque [Nm]: 20
Weight [kg]: 0.289
Condition: new
/
Manufacturer: TOYOTA
TOYOTA Part Number: 90915-YZZD4
OE & OEM Part's: (Original Equipment & Original Equipment Manufacturer):
BLUE PRINT Part Number: ADT32114
BOSCH Part Number: 0 986 452 044, 0 986 AF1 042
CHAMPION Part Number: C165/606
DENCKERMANN Part Number: A210052
febi bilstein Part Number: 27147
FILTRON Part Number: OP 618
HENGST Part Number: E14W32
K&N Part Number: HP-2004
KOLBENSCHMIDT Part Number: 50013820, 50013820/3
MAHLE Part Number: OC 478
MANN Part Number: W 712/83, W 7015, W 712/73
MEYLE Part Number: 30-14 322 0004
MULLER Part Number: FO458
PURFLUX Part Number: LS359
RIDEX Part Number: 7O0075, 7O0151
SWAG Part Number: 81 92 7147
Topran Part Number: 501 072
TRUCKTEC Part Number: –
UFI Part Number: 23.477.00
VAICO Part Number: V25-0145, V70-0016
VALEO Part Number: 586073
WIX Part Number: 51348, WL7172
Item No. 90915YZZD4
Dim. (L * H * W): 7.9*10.20*7.85cm
Weight : 0.289kg
Quality: Aftermarket
Made in PRC
Before you purchase the product, make sure that this part fits your car!
Fits These Car
LEXUS
LEXUS ES I (VCV10_, VZV21_) (Year of Construction 12.1989 – 12.1997, 160 – 188 PS, Petrol)
LEXUS GS I (JZS147_) (Year of Construction 01.1993 – 08.1997, 212 PS, Petrol)
LEXUS IS I Saloon (XE10) (Year of Construction 04.1999 – 07.2005, 155 – 213 PS, Petrol)
LEXUS LS I (XF10) (Year of Construction 12.1989 – 12.1994, 245 PS, Petrol)
LEXUS RX I (XU10) (Year of Construction 07.2000 – 05.2003, 201 – 223 PS, Petrol)
LEXUS GS II (S16) (Year of Construction 08.1997 – 12.2004, 219 – 294 PS, Petrol)
LEXUS LS II (XF20) (Year of Construction 12.1994 – 10.2000, 264 – 284 PS, Petrol)
LEXUS LS III (XF30) (Year of Construction 10.2000 – 08.2006, 282 – 283 PS, Petrol)
LEXUS SC II Convertible (Z40) (Year of Construction 01.2001 – 07.2010, 286 – 332 PS, Petrol)
LEXUS IS I Sportcross (XE10) (Year of Construction 10.2001 – 10.2005, 155 – 213 PS, Petrol)
LEXUS RX II (XU30) (Year of Construction 04.2003 – 12.2008, 204 – 276 PS, Petrol, Petrol/Electro)
LEXUS GS III (S19) (Year of Construction 04.2005 – 11.2011, 283 – 345 PS, Petrol, Petrol/Electro)
LEXUS ES (XV20, XV30) (Year of Construction 10.1996 – 10.2006, 190 – 228 PS, Petrol)
LEXUS LX (J100) (Year of Construction 05.1998 – 03.2008, 231 – 275 PS, Petrol)
LEXUS GX I (J120) (Year of Construction 11.2001 – 11.2009, 271 PS, Petrol)
TOYOTA
TOYOTA Corolla V Saloon (E80) (Year of Construction 06.1983 – 06.1989, 58 – 64 PS, Diesel)
TOYOTA Corolla Hatchback (E50) (Year of Construction 09.1976 – 01.1980, 73 – 84 PS, Petrol)
TOYOTA Corolla IV Hatchback (E70) (Year of Construction 09.1979 – 09.1983, 73 – 110 PS, Petrol)
TOYOTA Land Cruiser Prado 70 Off-Road (J70) (Year of Construction 11.1984 – 12.1996, 105 – 114 PS, Petrol)
TOYOTA 4Runner (_N1_) (Year of Construction 07.1990 – 11.1995, 143 PS, Petrol)
TOYOTA Camry III Saloon (_V1_) (Year of Construction 06.1991 – 08.1996, 183 – 188 PS, Petrol)
TOYOTA Camry II Saloon (V20) (Year of Construction 10.1986 – 06.1991, 160 PS, Petrol)
TOYOTA Camry III Estate (_V1_) (Year of Construction 09.1991 – 07.1996, 188 PS, Petrol)
TOYOTA Camry II Estate (_V2_) (Year of Construction 11.1986 – 05.1991, 160 PS, Petrol)
TOYOTA Carina Estate (_A6_) (Year of Construction 04.1978 – 09.1983, 65 – 78 PS, Diesel, Petrol)
TOYOTA Celica III Coupe (A60) (Year of Construction 08.1981 – 12.1985, 105 – 170 PS, Petrol)
TOYOTA Celica V Coupe (T180) (Year of Construction 10.1989 – 11.1993, 204 – 208 PS, Petrol)
TOYOTA Hiace Minibus (H50, H60, H70, H100) (Year of Construction 08.1989 – 08.2004, 101 – 120 PS, Petrol)
TOYOTA Celica II Coupe (A40) (Year of Construction 08.1977 – 07.1981, 75 – 110 PS, Petrol)
TOYOTA Celica II Hatchback (A40) (Year of Construction 08.1977 – 07.1981, 86 – 90 PS, Petrol)
TOYOTA Celica I Coupe (A20) (Year of Construction 05.1973 – 03.1978, 75 – 107 PS, Petrol)
TOYOTA Crown Estate (S110) (Year of Construction 09.1980 – 09.1983, 146 PS, Petrol)
TOYOTA Carina Saloon (TA1) (Year of Construction 12.1970 – 03.1978, 75 – 86 PS, Petrol)
TOYOTA Hiace Van (H50, H60, H70) (Year of Construction 03.1983 – 11.1989, 67 – 75 PS, Diesel)
TOYOTA Hiace Van (H100) (Year of Construction 08.1989 – 08.1995, 101 – 120 PS, Petrol)
TOYOTA Camry IV Saloon (_V2_) (Year of Construction 08.1996 – 11.2001, 184 – 190 PS, Petrol)
TOYOTA Land Cruiser Amazon (J100) (Year of Construction 01.1998 – 08.2007, 235 – 238 PS, Petrol)
TOYOTA Yaris I Hatchback (P1) (Year of Construction 10.2001 – 09.2005, 75 PS, Diesel)
TOYOTA Hiace Van (H11, H20, H30, H40) (Year of Construction 01.1979 – 03.1983, 63 PS, Diesel)
TOYOTA Hiace Van (XH10) (Year of Construction 08.1995 – 12.2012, 88 – 144 PS, Diesel, Petrol)
TOYOTA Yaris Verso (P2) (Year of Construction 12.2001 – 09.2005, 75 PS, Diesel)
TOYOTA Camry V Saloon (_V3_) (Year of Construction 08.2001 – 11.2006, 152 – 192 PS, Petrol)
TOYOTA Corolla IX Hatchback (E120) (Year of Construction 07.2004 – 02.2007, 90 PS, Diesel)
TOYOTA Corolla IX Saloon (E120) (Year of Construction 07.2004 – 07.2007, 90 PS, Diesel)
TOYOTA Corolla IX Station Wagon (E120) (Year of Construction 07.2004 – 02.2007, 90 PS, Diesel)
TOYOTA Land Cruiser Prado 120 (J120) (Year of Construction 09.2002 – 08.2010, 152 – 282 PS, Diesel, Petrol)
TOYOTA 4Runner (N180) (Year of Construction 11.1995 – 07.2002, 152 PS, Petrol)
TOYOTA Yaris II Hatchback (XP9) (Year of Construction 08.2005 – 12.2012, 90 PS, Diesel)
TOYOTA Dyna Platform / Chassis (U400-U700, Y200-Y300) (Year of Construction 09.2006 – …, 109 – 144 PS, Diesel)
TOYOTA Auris Hatchback (E15) (Year of Construction 03.2007 – 09.2012, 90 PS, Diesel)
TOYOTA Alphard I (AH10) (Year of Construction 04.2003 – 04.2008, 220 PS, Petrol)
TOYOTA Camry IV Estate (_V2_) (Year of Construction 08.1996 – 07.2001, 190 PS, Petrol)
TOYOTA Solara I Coupe (XV20) (Year of Construction 06.1998 – 06.2001, 190 PS, Petrol)
TOYOTA Hilux VII Pickup (Year of Construction 11.2004 – 05.2015, 88 – 171 PS, Diesel, Petrol)
TOYOTA Fortuner I (AN50, AN60) (Year of Construction 06.2004 – 05.2015, 102 – 171 PS, Diesel, Petrol)
TOYOTA Sequoia (_K3_, _K4_) (Year of Construction 09.2000 – 10.2007, 238 – 277 PS, Petrol)
TOYOTA Harrier I (XU10) (Year of Construction 03.1998 – 01.2003, 223 PS, Petrol)
TOYOTA Harrier II (XU30) (Year of Construction 08.2003 – 01.2006, 223 PS, Petrol)
TOYOTA Highlander I (XU20) (Year of Construction 11.2000 – 05.2007, 223 – 272 PS, Petrol, Petrol/Electro)
TOYOTA Land Cruiser 200 (J200) (Year of Construction 08.2007 – …, 275 – 288 PS, Petrol)
TOYOTA Corolla X Saloon (E150) (Year of Construction 10.2006 – 07.2014, 90 PS, Diesel)
TOYOTA Land Cruiser Prado 150 (J150) (Year of Construction 08.2009 – …, 163 – 190 PS, Diesel, Petrol)
TOYOTA Hiace / Commuter Minibus (H200) (Year of Construction 01.2005 – …, 102 – 151 PS, Diesel, Petrol)
TOYOTA Hiace Van (H200) (Year of Construction 01.2005 – …, 95 – 151 PS, Diesel, Petrol)
TOYOTA 4Runner (N50, N60, N70) (Year of Construction 08.1987 – 07.1989, 112 PS, Petrol)
TOYOTA Sequoia II (XK60) (Year of Construction 11.2007 – 04.2014, 280 PS, Petrol)
TOYOTA Tundra I Pickup (XK30, XK40) (Year of Construction 04.1999 – 07.2004, 190 PS, Petrol)
TOYOTA Hilux VII Platform / Chassis (Year of Construction 02.2005 – …, 136 – 171 PS, Diesel, Petrol)
TOYOTA Hilux VIII Pickup (Year of Construction 05.2015 – …, 102 – 177 PS, Diesel, Petrol)
TOYOTA Fortuner II (AN150, AN160) (Year of Construction 05.2015 – …, 147 – 177 PS, Diesel, Petrol)
TOYOTA Hilux V Pickup (Year of Construction 08.1989 – 07.1997, 114 PS, Petrol)
TOYOTA Hilux VI Pickup (Year of Construction 08.1997 – 10.2005, 88 – 147 PS, Diesel, Petrol)