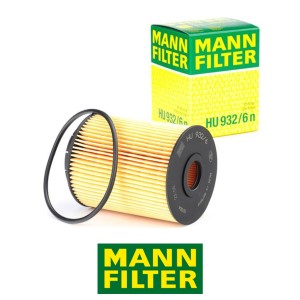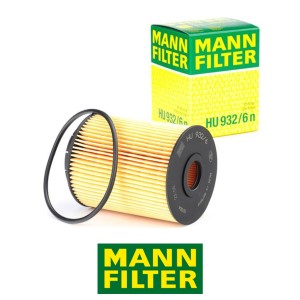 PORSCHE Engine Oil Filter Kit _ MANN HU 932/6 n
﷼14,000,000
Request for Quotation!
Made in Germany
Description
Additional information
Reviews (0)
Specifications / Specifications and Approvals:
Fitment:
Description
Product Description:
This crucial engine component ensures your engine functions smoothly and at peak performance. At MANN-FILTER we understand how to get the best out of every engine. And it starts with optimum filtration.
Filter Elements
Designed for modern engines, our MANN-FILTER products have excellent dirt-retention capacity thanks to clever design of the filter elements.
Our modern filter media are built to meet the future-facing technical requirements of high-performance engines. We use a non-return membrane that keeps the engine oil in the filter as soon as the engine stops. This offers an optimized and even faster oil supply on start-up.
As well as their functional advantages, MANN-FILTER filter elements have strong environmental credentials – as the filter housing lasts for the product life the only waste by-product from filter changes or maintenance is the easily-disposed of incinerable filter element.
Discover the benefits of regularly changing your engine oil filter:
Longevity – A build-up of residue in engine oil can damage other components, but filtered, clean oil keeps things working at peak performance
Protection – Safeguards your engine parts from wear and tear
Reliability – Ensures your engine can function well, even in cold conditions
Engine Oil Filter Failure Symptoms
Crumbling Filter Media
Torn Filter Media
Excessive dirt and contaminants in oil
Engine Failure
Additional information
| | |
| --- | --- |
| Weight | 0.77 kg |
| Dimensions | 9.5 × 9.5 × 12 cm |
| Brand | MANN FILTER |
| Color | Yellow |
| Package | Kit |
For OE number: 955.107.561.00
Filter Type: Filter Insert
Height [mm]: 111.2
Inner Diameter 2 [mm]: 23
Diameter [mm]: 83.0
Inner Diameter 3 [mm]: 39.2
Weight [kg]: 0.77
Condition: new
/
Manufacturer: MANN Filter
MANN Part Number: HU 932/6 n
OE & OEM Part's: (Original Equipment & Original Equipment Manufacturer):
BLUE PRINT Part Number: ADA102103
BOSCH Part Number: 1 457 429 142
BRYMAN Part Number: 07715562, 0211561B
CHAMPION Part Number: COF100515E, XE515/606
DENCKERMANN Part Number: –
febi bilstein Part Number: 109143
FILTRON Part Number: OE 640
HENGST Part Number: E1001H D28
K&N Part Number: –
KOLBENSCHMIDT Part Number: 50013563
MAHLE Part Number: OX 160D
MANN Part Number: HU 932/6 n
MEYLE Part Number: 114 322 0001
MULLER Part Number: FOP334
PORSCHE Part Number: 955.107.561.00
PURFLUX Part Number: L314
RIDEX Part Number: 7O0131
SWAG Part Number: –
Topran Part Number: 107 757
TRUCKTEC Part Number: 07.18.010
UFI Part Number: 25.010.00
VAICO Part Number: V10-0329
VALEO Part Number: 586526
VW Group Part Number: –
WIX Part Number: WL7007
Item No. 4011558267506
Dim. (L * H * W): 9.5*12*9.5cm
Weight : 0.77kg
Quality: OE
Made in Germany
Before you purchase the product, make sure that this part fits your car!
Fits These Car
PORSCHE Cayenne (9PA) (Year of Construction 08.2003 – 09.2010, 241 – 290 PS, Petrol)
PORSCHE Cayenne (92A) (Year of Construction 06.2010 – …, 300 PS, Petrol)