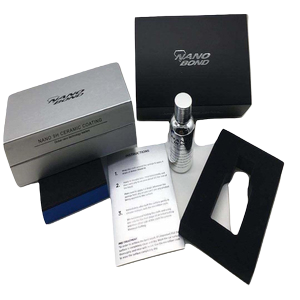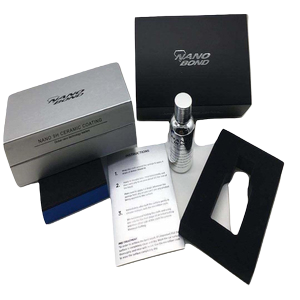 NANO BOND Nano Ceramic Coating
﷼24,500,000
Request of Quotation!
MADE IN U.S.A & CHINA
Description
Additional information
Reviews (0)
Product Description
Specifications & Feature
Description
NANO BOND CERAMIC COATING
The all new Nano Bond utilize the latest Nano Bond technology to protect your car like no other. It provides you an anti-scratch glass-like defensive shield that keeps your paint intact for years. The name Nano Bond is given to the product due to the produ's nature. The product contains of a transparent chemical that comprises of Nano particles of molecules. When applied to the surface of the car, the miniscule particles of the coating bond with the particles of the paint in such a way it fastens all the pores and develops layer. Hence, the name Nano Bond.
Nano Ceramic coating doesn't only provide a glossy shine to your car but is only abrasion resistance and can repel scratches with its thick protective film. While its hydrophobic effect repels water which makes it easier to clean and avoid water marks on the paint, it also shields the car from oxidization. This means you won't have to think about your paint getting defiled or the harsh climate affecting your car's ethereal shine or the blazing sun rays causing UV damage at least till next Christmas. Nano Bond has got it covered.
Additional information
| | |
| --- | --- |
| Weight | 0.227 kg |
| Dimensions | 16 × 10 × 6 cm |
| Brand | Nano Bond |
| Size | 30ml |
Keep your car looking great with Nano Bond!
Nano Bond 9H High Gloss Ceramic Coating keeps your car looking new with its unique qualities. Nano Bond Ceramic Coating Protects paint from scratches, chips, dust, acid rain, paint transfer, rust, fading, and water streaks. Nano Bond Ceramic Coating is also super hydrophobic and beads water and makes it run off with ease!
Hardness: 9H hardness
Durability: 2-3 years
Thickness: 30 µm
Gloss: Excellent high gloss effect
Heat Resistance: Up to 760 degrees
Bottle size: 30ML as displayed in picture.
Protects Paint from the Elements
Super Hydrophobic
Anti-Scratch 9H Diamond Hardness
Deep High Gloss Reflective Finish
Brand: Nano Bond
MPN(Part Number): 4333116426
Package Dimensions(L*W*H): 16*10*6cm; 227 g