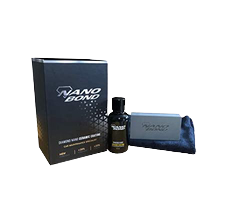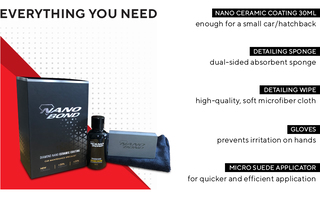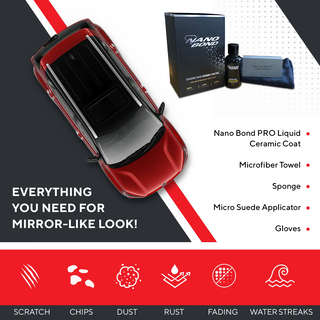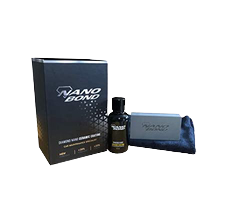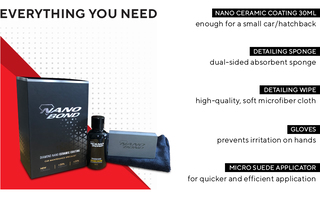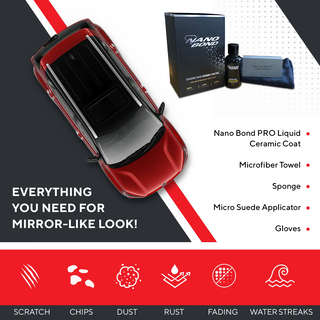 NANO BOND Pro Nano Ceramic Coating
﷼37,000,000
Request of Quotation!
MADE IN U.S.A & CHINA
Description
Additional information
Reviews (0)
Keep your car looking great with Nano Bond!
Specifications & Package Includes
Description
NANO BOND Pro CERAMIC COATING
Nano Bond ceramic coatings offer full protection from the elements by providing a thin crystallized, ultra hard protective layer between the environment and your paint.  Our ceramic coatings are detailer approved, and will give you a beautiful shine.
Nano Bond is a new company entering the passionate and crazy world of car detailing. After years of using most off the shelf products from auto stores that just didn't cut it, we knew something had to be done. This is when we decided to create Nano Bond.
We work with some of the best formulations in the world who have spent countless hours in Research, Testing and Development. A lot of hard-work and skill goes into creating and testing batch after batch against the top detailing brands until we have something that is a step up from the competition. We never release anything until we are completely 100% satisfied with its performance. We know that they are just car care products, but we are true car enthusiasts. Everything that we create, we actually use on our own vehicles… and we only like using the best products available!
We take pride in providing you with the absolute best customer experience.
We genuinely care about our customers, and it shows. Our first time customers continually become our long term customers time and time again. If you have any questions or concerns about our products, please do not hesitate to reach out. Get in touch with us to see what great customer service feels like! We welcome your feedback and look forward to hearing from you.
Additional information
| | |
| --- | --- |
| Brand | Nano Bond |
| Size | 30ml |
Nano Bond PRO Ceramic Coating is our all NEW latest formula with even more strength and increased durability. Nano Bond Ceramic Coating Protects paint from scratches, chips, dust, acid rain, paint transfer, rust, fading, and water streaks. Nano Bond Ceramic Coating is also super hydrophobic and beads water and makes it run off with ease!
Hardness: 9H hardness
Durability: 2-3 years
Thickness: 30 µm
Gloss: Excellent high gloss effect
Heat Resistance: Up to 760 degrees
Bottle size: 30ML
1 x Nano Bond PRO Liquid Ceramic Coat,
1 x Sponge,
1 x Microfiber towel,
1x micro suede applicator,
1x gloves.