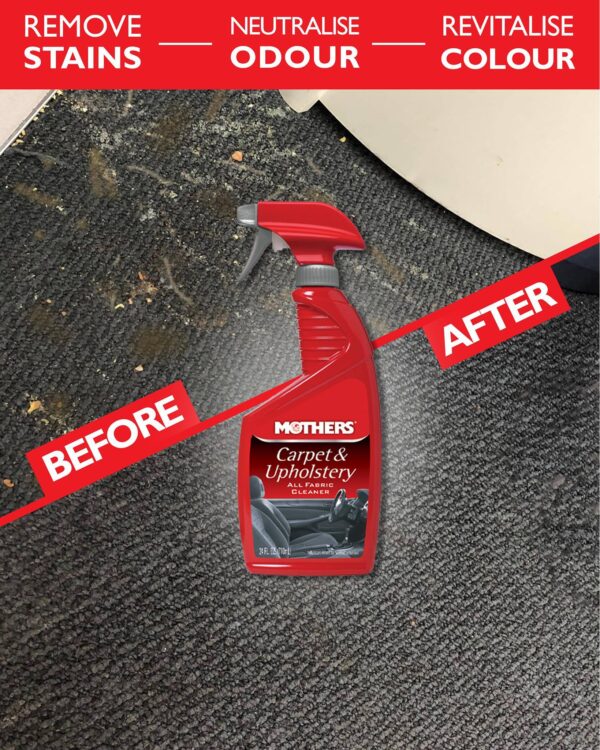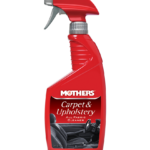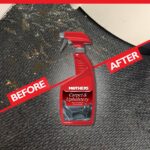 Mother's Carpet & Upholstery Cleaner
﷼4,700,000
Request for Quotation!
Made in USA
Description
Additional information
Reviews (0)
About this item
Description
You've never seen your carpet so clean. Using Mothers® Carpet & Upholstery All Fabric Cleaner is an eye-opening affair, revealing the true color and character of your interior. Carpet & Upholstery cleaner is tough enough to pull out the stubborn stains and marks that mar your vinyl, velour, cloth, carpet and sheepskin, while being PH balanced and environmentally safe.
Whether it's a short drive or an extended road trip, getting behind the wheel should be an enjoyable and satisfying experience. But having an interior that's messy, dirty, and smelly is never pleasant for drivers or passengers. Make each ride feel more like a luxury experience every time you step inside with our professional-grade car upholstery cleaner.
Despite what many drivers think, the interior of the vehicle endures extensive use and abuse, which means it can get even dirtier than the exterior. It's also the hardest to clean, especially when it comes to removing caked-on filth and grime. With so many tiny crevices and hard to reach areas, it's easy for dirt and other debris to be neglected and accumulate, leaving your car looking and smelling unpleasant. If you want to detail your car like a professional with minimal effort, our car seat cleaner and car carpet cleaner can do exactly that. It's designed to remove it all – dirt, mud, grease, pet stains, and everything in between.
Don't be that person with the car that passengers regret stepping into. Instead, maintain it with ease using our premium carpet and upholstery cleaner.
Additional information
| | |
| --- | --- |
| Brand | Mother's |
| Size | 24 fl. oz. / 710 mL |
Cleaner can be used in your home on stubborn stains
Trigger spray bottle for easy use
Environmentally safe to use
Regular use provides a long lasting benefit to your vehicle
Easy to apply