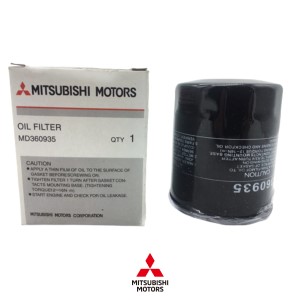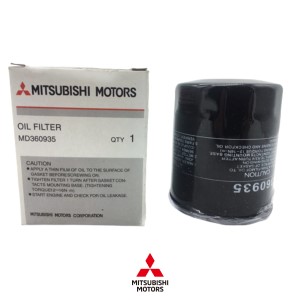 MITSUBISHI Engine Oil Filter _ MD360935
﷼4,900,000
Request for Quotation!
Made in PRC
Description
Additional information
Reviews (0)
Specifications / Specifications and Approvals:
Fitment:
Description
Product Description:
In order for modern combustion engines to function properly, they must be continuously lubricated. The oil required for this circulates under pressure to minimize friction between various metal components, e.g. bearings or camshafts. Oil filters ensure that the engine oil remains free of dirt particles, soot, or residues of burnt fuel thus preventing damage.
The best possible filtration performance always guarantees optimal engine operation.
Discover the benefits of regularly changing your engine oil filter:
Longevity – A build-up of residue in engine oil can damage other components, but filtered, clean oil keeps things working at peak performance
Protection – Safeguards your engine parts from wear and tear
Reliability – Ensures your engine can function well, even in cold conditions
Engine Oil Filter Failure Symptoms
Crumbling Filter Media
Torn Filter Media
Excessive dirt and contaminants in oil
Engine Failure
Additional information
| | |
| --- | --- |
| Weight | 0.218 kg |
| Dimensions | 7.0 × 7.00 × 8.80 cm |
| Brand | Mitsubishi Motors |
| Color | White |
| Package | Unit |
For OE number: MD360935
Filter type: Spin-on Filter
Height [mm]: 85.6
Seal Diameter [mm]: 52.4
Connecting thread: M20x1.5
Article number of the recommended special tool: OCS 4
Supplementary Article/Info 2: with one anti-return valve
Diameter [mm]: 65.0
Diameter 2 [mm]: 62.5
Valve type: Overflow Valve
Tightening Torque [Nm]: 16
Weight [kg]: 0.218
Condition: new
/
Manufacturer: MITSUBISHI
MITSUBISHI Part Number: MD360935
OE & OEM Part's: (Original Equipment & Original Equipment Manufacturer):
BLUE PRINT Part Number: ADM52107
BRILLIANCE Part Number: SMD 360935
BOSCH Part Number: F 026 407 025, 0 986 452 041, 0 451 103 364, 0 986 4B7 035, 0 986 4B7 063
BYD Part Number: 17.01.1400F3003
CHAMPION Part Number: COF100128S
DENCKERMANN Part Number: A210057, A210021
Donaldson Part Number: P502007
febi bilstein Part Number: 32100
FILTRON Part Number: OP 575
GREATWALL Part Number: 1017100-EG01, SMD 360935V
HENGST Part Number: H97W05
JAC Part Number: 1017110GG010
K&N Part Number: HM-1010
KOLBENSCHMIDT Part Number: 50013109/3, 50013109
MAHLE Part Number: OC 196
MANN Part Number: W 610/3
MEYLE Part Number: 31-14 322 0006
MULLER Part Number: FO198
PURFLUX Part Number: LS287, LS350
QUINTON HAZELL Part Number: QFL0056
RIDEX Part Number: 7O0012
SWAG Part Number: 70 93 2100
Topran Part Number: 201 295
UFI Part Number: 23.265.00
VAICO Part Number: V52-0131, V24-0018, V30-1338, V26-0012
VALEO Part Number: 586013, 586021
WIX Part Number: 51356, WL7134, 57356
Item No. 4011558738402
Dim. (L * H * W): 7.0*8.80*7.00 cm
Weight : 0.218kg
Quality: Aftermarket
Made in PRC
Before you purchase the product, make sure that this part fits your car!
Fits These Car
ALFA-ROMEO
ALFA ROMEO MiTo (955) (Year of Construction 09.2008 – …, 69 – 95 PS, Petrol)
MITSUBISHI
MITSUBISHI Colt II (C10) (Year of Construction 06.1986 – 04.1988, 67 PS, Petrol)
MITSUBISHI Colt III (C50) (Year of Construction 04.1988 – 05.1992, 60 – 136 PS, Petrol)
MITSUBISHI Colt IV (CA0) (Year of Construction 04.1992 – 04.1996, 75 – 140 PS, Petrol)
MITSUBISHI L300 / Delica III Minibus (P0_W, P1_W, P2_W) (Year of Construction 11.1986 – 05.2004, 69 – 132 PS, Petrol)
MITSUBISHI Lancer IV Saloon (C6_A, C7_A) (Year of Construction 04.1988 – 09.1992, 60 – 90 PS, Petrol)
MITSUBISHI Lancer V Saloon (CB_A, CD_A, CE_A) (Year of Construction 07.1991 – 12.1996, 75 – 269 PS, Petrol)
MITSUBISHI Space Wagon I (D00) (Year of Construction 03.1985 – 04.1991, 75 – 102 PS, Diesel, Petrol)
MITSUBISHI Space Wagon II (N3) (Year of Construction 10.1991 – 10.1998, 116 – 139 PS, Petrol)
MITSUBISHI Starion (A180, A187) (Year of Construction 09.1987 – 06.1990, 155 PS, Petrol)
MITSUBISHI Eclipse I Coupe (D22A) (Year of Construction 12.1989 – 11.1995, 92 – 200 PS, Petrol)
MITSUBISHI Pajero / Shogun I (L040) (Year of Construction 05.1988 – 05.1991, 141 – 143 PS, Petrol)
MITSUBISHI Pajero / Shogun II (V20) (Year of Construction 03.1991 – 10.1999, 103 – 177 PS, Petrol)
MITSUBISHI Galant IV Saloon (A160) (Year of Construction 05.1982 – 05.1984, 170 PS, Petrol)
MITSUBISHI Galant V Saloon (E10) (Year of Construction 06.1984 – 04.1990, 150 PS, Petrol)
MITSUBISHI Galant VI Saloon (E30) (Year of Construction 11.1987 – 10.1992, 90 – 150 PS, Petrol)
MITSUBISHI Galant VII Hatchback (E5_A, E7_A, E8_A) (Year of Construction 11.1992 – 09.1996, 116 – 170 PS, Petrol)
MITSUBISHI Galant VII Saloon (E50) (Year of Construction 11.1992 – 08.1996, 116 – 170 PS, Petrol)
MITSUBISHI Lancer Estate (CB5W, CD5W) (Year of Construction 12.1992 – 10.2003, 75 – 113 PS, Petrol)
MITSUBISHI Eclipse II Coupe (D32A) (Year of Construction 12.1995 – 04.1999, 143 – 214 PS, Petrol)
MITSUBISHI Carisma Hatchback (DA2A, DAO) (Year of Construction 07.1995 – 06.2006, 90 – 140 PS, Petrol)
MITSUBISHI Colt V (CJ0) (Year of Construction 05.1996 – 09.2003, 75 – 103 PS, Petrol)
MITSUBISHI Lancer VI Saloon (CJ_, CP_) (Year of Construction 12.1995 – 08.2003, 75 – 90 PS, Petrol)
MITSUBISHI L200 III Pickup (K6) (Year of Construction 06.1996 – 12.2007, 122 – 132 PS, Petrol)
MITSUBISHI Carisma Saloon (DA2A, DAO) (Year of Construction 09.1996 – 06.2006, 75 – 280 PS, Petrol)
MITSUBISHI L300 / Delica III Van (P0_V, P1_V, P_2V) (Year of Construction 11.1986 – 02.2006, 69 – 131 PS, Petrol)
MITSUBISHI Galant VIII Saloon (EA_) (Year of Construction 09.1996 – 10.2004, 133 – 163 PS, Petrol)
MITSUBISHI Galant VIII Estate (EA0) (Year of Construction 09.1996 – 10.2003, 133 – 163 PS, Petrol)
MITSUBISHI Pajero / Shogun II Canvas Top (V20) (Year of Construction 04.1991 – 04.2000, 112 PS, Petrol)
MITSUBISHI Lancer Estate (C1_V, C3_V) (Year of Construction 09.1985 – 06.1992, 75 – 94 PS, Petrol)
MITSUBISHI Lancer IV Hatchback (C6_A, C7_A) (Year of Construction 06.1988 – 05.1994, 75 – 140 PS, Petrol)
MITSUBISHI Galant VI Hatchback (E30) (Year of Construction 11.1988 – 12.1992, 90 – 146 PS, Petrol)
MITSUBISHI Space Runner I (N1, N2) (Year of Construction 10.1991 – 08.1999, 116 – 133 PS, Petrol)
MITSUBISHI L300 / Delica II Platform / Chassis (L03_P) (Year of Construction 04.1983 – 04.1994, 70 PS, Petrol)
MITSUBISHI L300 / Delica III Platform / Chassis (P1_T) (Year of Construction 07.1994 – 04.2000, 116 PS, Petrol)
MITSUBISHI Pajero / Shogun Sport I Off-Road (K70, K90) (Year of Construction 11.1998 – …, 114 – 177 PS, Petrol)
MITSUBISHI Space Star (DG_A) (Year of Construction 06.1998 – 12.2004, 82 – 122 PS, Petrol)
MITSUBISHI Shogun Pinin (V60) (Year of Construction 10.1999 – 06.2007, 114 – 129 PS, Petrol)
MITSUBISHI Space Runner II (N50) (Year of Construction 08.1999 – 08.2002, 136 PS, Petrol)
MITSUBISHI L400 / Space Gear Minibus (PD_W, PC_W, PA_V, PB_V, PA_W) (Year of Construction 05.1995 – 10.2002, 113 – 132 PS, Petrol)
MITSUBISHI Outlander I Off-Road (CU) (Year of Construction 01.2002 – 10.2006, 139 – 241 PS, Petrol)
MITSUBISHI Lancer VII Saloon (CS_A, CT_A) (Year of Construction 09.2003 – …, 82 – 350 PS, Petrol)
MITSUBISHI Lancer VII Estate (CS_W, CT_W) (Year of Construction 09.2003 – 10.2008, 98 PS, Petrol)
MITSUBISHI Grandis (NA4W) (Year of Construction 04.2004 – 12.2011, 165 PS, Petrol)
MITSUBISHI Colt VI (Z30) (Year of Construction 06.2004 – 06.2012, 75 – 109 PS, Petrol, Petrol/Methanol, Petrol/Petroleum Gas (LPG))
MITSUBISHI Colt VI CZC Convertible (RG) (Year of Construction 05.2006 – 07.2009, 109 PS, Petrol)
MITSUBISHI Galant Saloon (Year of Construction 10.2003 – …, 158 – 160 PS, Petrol)
MITSUBISHI Outlander II Off-Road (CW_W) (Year of Construction 11.2006 – 12.2012, 140 – 230 PS, Diesel, Petrol, Petrol/Ethanol)
MITSUBISHI Pajero / Shogun IV (V80) (Year of Construction 02.2007 – …, 178 – 248 PS, Petrol)
MITSUBISHI Lancer VIII Saloon (CY_A, CZ_A) (Year of Construction 03.2007 – …, 109 – 155 PS, Diesel, Petrol, Petrol/Ethanol, Petrol/Petroleum Gas (LPG))
MITSUBISHI Lancer VIII Hatchback (CX_A) (Year of Construction 06.2008 – …, 109 – 150 PS, Diesel, Petrol, Petrol/Ethanol, Petrol/Petroleum Gas (LPG))
MITSUBISHI ASX Off-Road (GA0) (Year of Construction 02.2010 – …, 116 – 150 PS, Diesel, Petrol, Petrol/Ethanol, Petrol/Petroleum Gas (LPG))
MITSUBISHI Pajero Sport II Off-Road (KH, KG) (Year of Construction 09.2008 – …, 220 PS, Petrol)
MITSUBISHI Outlander III Off-Road (GG, GF) (Year of Construction 08.2012 – …, 118 – 230 PS, Diesel, Petrol, Petrol/Electro, Petrol/Petroleum Gas (LPG))
MITSUBISHI L200 III Platform/Chassis (Year of Construction 10.1996 – 12.2006, 132 PS, Petrol)
MITSUBISHI Delica / Space Gear MPV (Year of Construction 05.1995 – 10.2002, 113 – 132 PS, Petrol)
MITSUBISHI Mirage Saloon (A1_A) (Year of Construction 10.2013 – …, 78 – 80 PS, Petrol)
MITSUBISHI Mirage / Space Star Hatchback (A0_A) (Year of Construction 01.2012 – …, 71 – 80 PS, Petrol, Petrol/Petroleum Gas (LPG))
MITSUBISHI L200 / Triton V Pickup (KJ, KK, KL) (Year of Construction 11.2014 – …, 150 – 181 PS, Diesel)
MITSUBISHI Pajero Sport III Off-Road (KS) (Year of Construction 08.2015 – …, 181 – 209 PS, Diesel, Petrol)
MITSUBISHI Eclipse Cross (GK_) (Year of Construction 10.2017 – …, 148 – 163 PS, Diesel, Petrol)