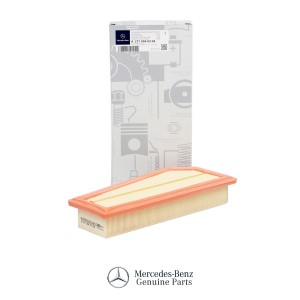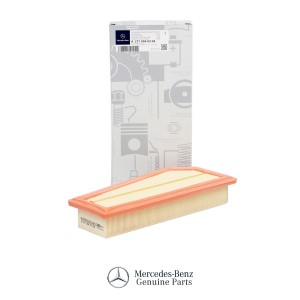 Mercedes Benz Air Filter _ A 271 094 03 04
﷼4,500,000
Request for Quotation!
Made in PRC
Description
Additional information
Reviews (0)
Specifications / Specifications and Approvals:
Fitment:
Description
Product Description:
Like your home's air filter, an engine's air filter is there to filter out dirt, dust and other foreign matter. Did you know that most of the dirt in your engine enters in through a dirty air filter? Your engine's air filter plays an important role as it prevents dirt from entering into the combustion chamber thus reducing the chances of internal damage and wear. A new air filter can increase airflow, improve overall engine performance, and in some cases add additional horsepower. Considering most of us drive in the harshest of conditions such as heavy idling in traffic, driving on dusty roads, and heavy towing, be sure to replace the air filter in your vehicle regularly.
Product Information
Absolute accuracy of fit and stability
Best possible separation and adsorption values
Strict quality standards
Compliance with the requirements of vehicle manufacturers
Air Filter Failure Symptoms
Clogged filter media
Reduced engine performance
Internal Engine Damage
Additional information
| | |
| --- | --- |
| Weight | 0.328 kg |
| Dimensions | 6.7 × 6.7 × 29.8 cm |
| Brand | Daimler AG |
| Color | White |
| Package | Unit |
For OE number: A 271 094 03 04
Filter type: Filter Insert
Length [mm]: 314
Width [mm]: 146
Height [mm]: 50
Weight [kg]: 0.328
Condition: new
/
Manufacturer: Daimler
Mercedes Benz Part Number: A 271 094 03 04
OE & OEM Part's: (Original Equipment & Original Equipment Manufacturer):
BLUE PRINT Part Number: ADU172210
BOSCH Part Number: F 026 400 134
BRYMAN Part Number: 27100304
CHAMPION Part Number: CAF100729R, CAF101139P
DENCKERMANN Part Number: A141686
febi bilstein Part Number: 108976
FILTRON Part Number: AP 035/4
HENGST Part Number: E1015L
K&N Part Number: –
KOLBENSCHMIDT Part Number: 50014284
MAHLE Part Number: LX 2813
MANN Part Number: C 3210
Mercedes Benz Part Number: A 271 094 01 00, A 271 094 03 04
MEYLE Part Number: 012 321 0015
MULLER Part Number: PA3526
PURFLUX Part Number: A1383
RIDEX Part Number: 8A0458
SWAG Part Number: –
Topran Part Number: 409 151
TRUCKTEC Part Number: 02.14.141
UFI Part Number: 30.A60.00
VAICO Part Number: V30-0229
VALEO Part Number: 585486
Item No. MB414T013W
Dim. (L * H * W): 6.7*29.8*6.7cm
Weight .0.328kg
Quality: Aftermarket
Made in PRC
Before you purchase the product, make sure that this part fits your car!
Fits These Car
MERCEDES-BENZ E-Class Saloon (W211) (Year of Construction 04.2006 – 12.2008, 184 PS, Petrol)
MERCEDES-BENZ E-Class T-Modell (S211) (Year of Construction 03.2003 – 07.2009, 163 – 184 PS, Petrol)
MERCEDES-BENZ C-Class Saloon (W204) (Year of Construction 01.2007 – 01.2014, 156 – 204 PS, Petrol)
MERCEDES-BENZ C-Class T-Modell (S204) (Year of Construction 08.2007 – 08.2014, 156 – 204 PS, Petrol)
MERCEDES-BENZ E-Class Saloon (W212) (Year of Construction 01.2009 – 12.2015, 184 – 204 PS, Petrol)
MERCEDES-BENZ E-Class Coupe (C207) (Year of Construction 01.2009 – 12.2016, 184 – 204 PS, Petrol)
MERCEDES-BENZ E-Class T-Modell (S212) (Year of Construction 11.2009 – 12.2016, 184 – 204 PS, Petrol)
MERCEDES-BENZ E-Class Convertible (A207) (Year of Construction 01.2010 – 12.2016, 184 – 204 PS, Petrol)
MERCEDES-BENZ C-Class Coupe (C204) (Year of Construction 06.2011 – …, 156 – 204 PS, Petrol)