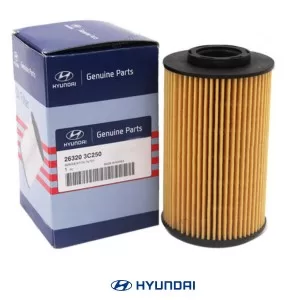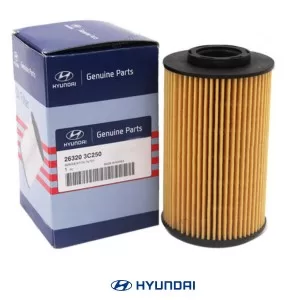 HYUNDAI Engine Oil Filter _ 26320-3C250
﷼3,000,000
Request for Quotation!
Made in PRC
Description
Additional information
Reviews (0)
Specifications / Specifications and Approvals:
Fitment:
Description
Product Description:
In order for modern combustion engines to function properly, they must be continuously lubricated. The oil required for this circulates under pressure to minimize friction between various metal components, e.g. bearings or camshafts. Oil filters ensure that the engine oil remains free of dirt particles, soot, or residues of burnt fuel thus preventing damage.
Product Information
Absolute accuracy of fit and stability
Best possible separation values
Strict quality standards
Compliance with the requirements of vehicle manufacturers
Engine Oil Filter Failure Symptoms
Crumbling Filter Media
Torn Filter Media
Excessive dirt and contaminants in oil
Engine Failure
Additional information
| | |
| --- | --- |
| Weight | 0.70 kg |
| Dimensions | 7.0 × 7.00 × 11.0 cm |
| Brand | Hyundai Motor Company |
| Color | Blue |
| Package | Kit |
For OE number: 26320-3C250
Filter type: Filter Insert
Height [mm]: 104.0
Inner diameter 2 [mm]: 20
Height 1 [mm]: 104
Diameter [mm]: 65.0, 65
Inner diameter 3 [mm]: 19.5
Weight [kg]: 0.70
Condition: new
/
Manufacturer: Hyundai Motor Company
HYUNDAI Part Number: 26320-3C250
OE & OEM Part's: (Original Equipment & Original Equipment Manufacturer):
BLUE PRINT Part Number: ADG02151
BOSCH Part Number: F 026 407 147, 0 986 4B7 029
CHAMPION Part Number: COF100958E
DENCKERMANN Part Number: A210616
Donaldson Part Number: –
febi bilstein Part Number: –
FILTRON Part Number: OE 674/5
HENGST Part Number: E825H D265
K&N Part Number: HP-7029
KAMOKA Part Number: F111101
KOLBENSCHMIDT Part Number: 50014587
MAHLE Part Number: OX 351D
MANN Part Number: HU 7001 x
MEYLE Part Number: 28-14 322 0004
MULLER Part Number: FOP230
PURFLUX Part Number: L409
RIDEX Part Number: 7O0092
SWAG Part Number: –
TOPRAN Part Number: –
TRUCKTEC Part Number: –
UFI Part Number: 25.151.00
VAICO Part Number: V53-0006
VALEO Part Number: 586579
WIX Part Number: WL7477
Item No. 263203C250
Dim. (L * H * W): 7.0*11.00*7.00cm
Weight : 0.70kg
Quality: Aftermarket
Made in PRC
Before you purchase the product, make sure that this part fits your car!
Fits These Car
HYUNDAI
HYUNDAI Sonata V (NF) (Year of Construction 09.2007 – 12.2010, 250 – 253 PS, Petrol)
HYUNDAI Grandeur (TG) (Year of Construction 04.2005 – …, 235 – 269 PS, Petrol)
HYUNDAI ix55 (EN) (Year of Construction 01.2007 – …, 260 – 271 PS, Petrol)
HYUNDAI Genesis I Saloon (BH) (Year of Construction 01.2008 – 12.2014, 290 – 337 PS, Petrol)
HYUNDAI Genesis I Coupe (BK) (Year of Construction 01.2008 – …, 303 – 354 PS, Petrol)
HYUNDAI Equus / Centennial (Year of Construction 03.2009 – …, 290 – 430 PS, Petrol)
HYUNDAI Genesis II Saloon (DH) (Year of Construction 06.2014 – …, 315 PS, Petrol)
KIA
KIA Sorento I (JC) (Year of Construction 02.2007 – …, 245 – 248 PS, Petrol)
KIA Rio III Hatchback (UB) (Year of Construction 09.2011 – …, 75 – 90 PS, Diesel, Petrol)
KIA Rio III Saloon (UB) (Year of Construction 11.2014 – …, 84 PS, Petrol)
KIA Mohave / Borrego (HM) (Year of Construction 06.2008 – …, 274 – 275 PS, Petrol)
KIA Quoris Saloon (Year of Construction 01.2013 – …, 290 – 424 PS, Petrol)