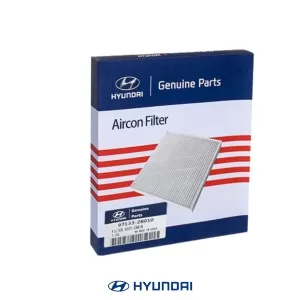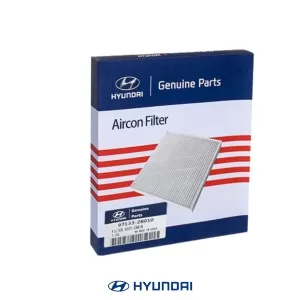 HYUNDAI Cabin Air Filter _ 97133-2B010
﷼2,400,000
Request for Quotation!
Made in PRC
Description
Additional information
Reviews (0)
Specifications / Specifications and Approvals:
Fitment:
Description
Product Description:
Cabin air filters are important. For one, they filter the air which is entering the passenger compartment from dust and other allergens. They are also tasked with preventing outside debris from getting into the air ducts as well. Since these filters can become dirty with time it is recommend to inspect and replace them regularly.
When installing the cabin air filter, always observe the air flow direction of the filter. This is indicated by an arrow on the filter.
Superior filter Performance Design: Significantly high filter efficiency for fine dust with a low pressure loss leads to flawless air flow.
Product Information
Enhancing well-being and driving comfort
Almost complete retention of dust and pollen
Absolute accuracy of fit and stability
Best possible separation and adsorption values
Cabin Air Filter Failure Symptoms
Musty Smell from Vents
Reduced Air Flow from Vents
Dust and Debris being emitted from Vents
Additional information
| | |
| --- | --- |
| Weight | 0.66 kg |
| Dimensions | 23.0 × 4.00 × 26.00 cm |
| Brand | Hyundai Motor Company |
| Color | White |
| Package | Unit |
For OE number: 97133-2B010
Filter type: Particulate Filter
Length [mm]: 221
Width [mm]: 251, 250.0
Height [mm]: 30.0
Weight [kg]: 0.66
Condition: new
/
Manufacturer: Hyundai Motor Company
HYUNDAI Part Number: 97133-2B010
OE & OEM Part's: (Original Equipment & Original Equipment Manufacturer):
ACDelco Part Number: –
BLUE PRINT Part Number: ADG02528
BOSCH Part Number: 1 987 435 027, 1 987 432 160, 1 987 432 227
CHAPION Part Number: CCF0133
CORTECO Part Number: 80000767, 80000764
DELPHI Part Number: TSP0325252C
DENCKERMANN Part Number: M110531, M110531K
DIEDERICHS Part Number: DCI0156, DCI0219
febi bilstein Part Number: 29188
FILTRON Part Number: K 1219, K 1219A
HENGST Part Number: E3984LI
KAVO Part Number: HC-8213, HC-8213X
K&N Part Number: –
KOLBENSCHMIDT Part Number: 50014773, 50013896
MAHLE Part Number: LA 343
MANN Part Number: CU 2362, CUK 2362
MEYLE Part Number: 37-12 319 0011, 37-12 320 0011
MULLER Part Number: FC368
PURFLUX Part Number: AH260
RIDEX Part Number: 424I0098, 424I0396
SWAG Part Number: 90 92 9188
Topran Part Number: 820 629
UFI Part Number: 53.145.00
VALEO Part Number: 715541
VEMO Part Number: V53-30-0007
WIX Part Number: WP9298
Item No. 971332B010
Dim. (L * H * W): 23.0*26.00*4.00cm
Weight : 0.66kg
Quality: Aftermarket
Made in PRC
Before you purchase the product, make sure that this part fits your car!
Fits These Car
HYUNDAI
HYUNDAI Santa Fe I (SM) (Year of Construction 09.2003 – 02.2006, 173 – 200 PS, Petrol)
HYUNDAI Sonata VI (YF) (Year of Construction 01.2009 – 12.2014, 150 – 162 PS, Petrol)
HYUNDAI Sonata V (NF) (Year of Construction 01.2005 – 12.2010, 140 – 250 PS, Diesel, Petrol)
HYUNDAI Grandeur (TG) (Year of Construction 06.2003 – 12.2011, 148 – 267 PS, Diesel, Petrol)
HYUNDAI Santa Fe II (CM) (Year of Construction 03.2006 – 12.2012, 139 – 286 PS, Diesel, Petrol)
HYUNDAI Grandeur (HG) (Year of Construction 02.2011 – 10.2016, 294 PS, Petrol)
HYUNDAI Grandeur (LX) (Year of Construction 08.1994 – 05.1999, 170 PS, Petrol)
KIA
KIA Magentis I (GD, MS) (Year of Construction 05.2001 – …, 140 – 180 PS, Petrol)
KIA Magentis II (MG) (Year of Construction 10.2005 – …, 132 – 193 PS, Diesel, Petrol)
KIA Optima / K5 (TF) (Year of Construction 06.2010 – …, 136 – 179 PS, Diesel, Petrol)