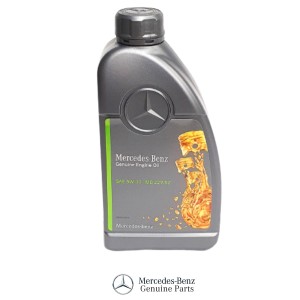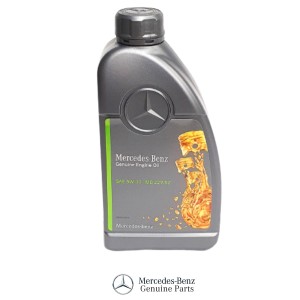 Genuine Mercedes Benz Engine Oil – 5W-30 229.52 _ 000 989 70 06 11
﷼6,700,000
Request for Quotation!
Made in Europe
Description
Additional information
Reviews (0)
Specifications / Specifications and Approvals:
Fitment:
Description
Product Description
The Mercedes-Benz Engine Oil 5W-30 MB 229.52 is the Mercedes-Benz OEM product for Mercedes gasoline and diesel engines, for which an engine oil according to the MB 229.52 approval is mandatory.
The MB 229.52 approval is characterized by the fact that engine oils which receive this Mercedes-Benz release must have a formulation with a reduced content of ash-forming components. These so-called Low SPAsh (reduced content of sulphur, phosphate and sulphate ash) engine oils are required in particular for diesel engines with diesel particulate filters and, more recently, also for gasoline engines with gasoline particulate filters (OPF).
Properties
More performance through less friction.
Safe in every situation. At any temperature.
Maximum endurance. Maximum service life.
Reduced consumption. Less emissions. More power.
Introduced for modern Mercedes diesel engines – also required for a large number of new petrol engines!
With the introduction of new Mercedes-Benz BLUETEC diesel engines with exhaust after treatment, Daimler has published the MB 229.52 approval for the first time. This approval is based on the previous MB 229.51 approval, but sets higher standards for oxidation stability and efficiency in fuel consumption to the engine oil. It is therefore to be included in the second generation of Mercedes Als Low SPAsh engine oils, which replaces the MB 229.31 generation.
The regeneration process of the diesel particulate filter is problematic in diesel engines with exhaust after treatment. Here it can come to an increased admixture of fuel to the engine oil. In principle, this diesel fuel evaporates again in the oil during engine operation. Obviously, however, two factors have a considerable influence on such a vaporization process: According to the EU Biofuels Directive, the proportion of biofuels and thus also biodiesel should be increased more and more. Compared to conventional diesel, biodiesel has a significantly higher boiling point (about 100°C to about 55°C). If this coincides with frequent short-distance drives, where operating temperatures are reached much less frequently, it becomes obvious that the necessary vaporization of fuel admixtures may no longer be possible. For this purpose, Mercedes is developing a special oxidation test for the issue of the Mercedes-Benz engine oil approvals, which meet the requirements in Mercedes diesel engines.
Buy Mercedes 5W-30 engine oil for Mercedes engines with DPF and OPF at ATO24!
An engine oil according to the MB 229.52 release can be used in the following Mercedes Diesel engines without diesel particle filter:
OM 640 four-cylinder engine in A-class and B-class
OM 642 V6 CDI engines e.g. in E 280 CDI W 164, E 300 CDI W211, ML 300 CDI W 164
OM 646
OM 651
In addition, an engine oil of the MB 229.52 release is prescribed in the following diesel engines with diesel particle filter DPF or can be used in these engines:
V6 CDI OM 629 e.g. in E 420, S 420, ML 420
OM 640 four-cylinder engine in A-class and B-class
OM 646 four-cylinder e.g. in W204 C-Class C200 CDI and C 220 CDI, E-Class W 211 E 200 CDI and E 220 CDI
OM 651 four-cylinder engine e.g. in C-class W204, V-class, A-class W176, CLA C117, GLA X156, E-class W212
OM 642 from model year 2017 e.g. in Mercedes X-class X 350 d 4MATIC, ML 350 Blue TEC, GL 350 Blue TEC, E350 d W 212, CLS 350 d C 218
OM 656 e.g. in E class W213 E 350 d and E 400 d, S class W 222 S 350 d and S 400 d
Besides the listed diesel engines, an engine oil of the MB 229.52 release will be released among many others in the following modern gasoline engines:
M 260, M 264 and M 282 4-cylinder in Mercedes A class and B class, CLA and GLB, C class, E class and CLS
V6 gasoline engine M 256 with OPF in the E-Class (W213), S-Class (W 222), CLS (C 257), GLE (C 167) and AMG GT (X290 AMG GT 43) series
M 176 V8 engines with OPF in the Mercedes S-Class S 560 and G-Class G 500 models from 2019
Which Mercedes engine oil for your car? We help!
When choosing the appropriate motor oil for your Mercedes-Benz, please consider that the compatibility information given here is only a first orientation guide. When choosing the right engine oil for your car, please pay attention to your car manual. Here you will find information on the required engine oil release in connection with viscosity for your Mercedes. These specifications are decisive for the purchase of the engine oil in our online store!
An overview of the current Mercedes-Benz engine oil approvals can be found in the Mercedes sheet of the operating instructions list 221.0.
With the help of the Mercedes sheet on operating instructions MB 223.2, you can assign all current Mercedes-Benz engine oil approvals to Mercedes Benz engines.
For the further search for your engine oil our employees are at your disposal! Contact us by e-mail or telephone and we will help you. We will be happy to assist you from the search for the right release for your vehicle to the decision support as to which of the applicable oils is most suitable for your individual use.
Mercedes-Benz approval 229.52
Mercedes-Benz OEM engine oil
for nearly all Mercedes diesel und many gasoline engines
Additional information
| | |
| --- | --- |
| Weight | 0.920 kg |
| Dimensions | 22.3 × 6.3 × 11.2 cm |
| Brand | Daimler AG |
| Color | Gold, Green, Grey |
| Package | 12 |
For OE number: 000 989 70 06 11
Oil Viscosity Classification SAE: 5W-30
pecification:
Recommendations:
Product line: Mercedes Benz MB 229.52
Packing Type: Plastic Canister
Content [litre]: 1L / 1.06 US-Quarts
Condition: new
/
Manufacturer: Daimler AG
Mercedes Bnez Part Number. 000 989 70 06 11
OE & OEM Part's: (Original Equipment & Original Equipment Manufacturer):
ARAL Part Number: 15C474
Castrol Part Number: 15BF68, 15BC8D, 1595CC, 15BC8E, 15BF69, 15BF6C, 15C44F
febi bilstein Part Number: 32941, 32942, 32943,
Liqui Moly Part Number: 21224, 21225
Mercedes Benz Part Number: 000 989 55 04 11, 000 989 70 06 11, 000 989 70 06 11AMED, 000 989 70 06 11AMME, 000 989 80 02 11, 000 989 82 07 11, 000 989 86 04 11, 000 989 92 05 11, 000 989 95 02 11, 000 989 95 02 11AMED, 000 989 95 02 AMED, 000 989 95 02 AMEE, 001 989 37 01 BRD6, 229.52 / 22952
RAVENOL Part Number: 1111119-001-01-999, 1111119-004-01-999, 1111119-005-01-999,
SHELL Part Number: 550042371
SWAG Part Number: 15 93 2941, 15 93 2943,
VAICO Part Number: V60-0301, V60-0082, V60-0304, V60-0083, V60-3001, V60-3002, V60-3012, V60-3014, V60-3011, V60-0301-S, V60-0303
Item No. MB319A405W
Dim. (L * H * W): 22.3*11.2*6.3cm
Weight . 0.920kg
Quality: Genuine
Made in Europe
Before you purchase the product, make sure that this part fits your car!
Fits These Cars
MERCEDES-BENZ G-Class Off-Road (W463) (Year of Construction 08.1996 – …, 156 – 250 PS, Diesel)
MERCEDES-BENZ G-Class Off-Road Cabrio (W463) (Year of Construction 12.2000 – …, 224 – 250 PS, Diesel)
MERCEDES-BENZ ML-Class (W163) (Year of Construction 12.1999 – 06.2005, 163 – 250 PS, Diesel)
MERCEDES-BENZ S-Class Saloon (W220) (Year of Construction 09.2002 – 08.2005, 204 PS, Diesel)
MERCEDES-BENZ G-Class Off-Road (W461) (Year of Construction 01.2003 – …, 156 PS, Diesel)
MERCEDES-BENZ C-Class Saloon (W203) (Year of Construction 05.2000 – 02.2007, 102 – 231 PS, Diesel, Petrol)
MERCEDES-BENZ C-Class Coupe (CL203) (Year of Construction 03.2001 – 05.2008, 122 – 231 PS, Diesel, Petrol)
MERCEDES-BENZ E-Class Saloon (W211) (Year of Construction 03.2002 – 12.2008, 102 – 314 PS, Diesel, Petrol, Petrol/Natural Gas (CNG))
MERCEDES-BENZ CLK Coupe (C209) (Year of Construction 09.2002 – 05.2009, 136 – 224 PS, Diesel, Petrol)
MERCEDES-BENZ CLK Convertible (A209) (Year of Construction 02.2003 – 03.2010, 163 – 224 PS, Diesel, Petrol)
MERCEDES-BENZ SLK (R171) (Year of Construction 03.2004 – 02.2011, 163 – 184 PS, Petrol)
MERCEDES-BENZ CLS Coupe (C219) (Year of Construction 01.2005 – 12.2010, 211 – 224 PS, Diesel)
MERCEDES-BENZ A-Class (W169) (Year of Construction 09.2004 – 06.2012, 82 – 193 PS, Diesel, Petrol)
MERCEDES-BENZ B-Class (W245) (Year of Construction 03.2005 – 11.2011, 95 – 193 PS, Diesel, Petrol, Petrol/Natural Gas (CNG))
MERCEDES-BENZ ML-Class (W164) (Year of Construction 07.2005 – 12.2011, 190 – 306 PS, Diesel)
MERCEDES-BENZ S-Class Saloon (W221) (Year of Construction 10.2005 – 12.2013, 204 – 320 PS, Diesel)
MERCEDES-BENZ R-Class (W251, V251) (Year of Construction 01.2006 – 12.2014, 190 – 306 PS, Diesel, Petrol)
MERCEDES-BENZ GL (X164) (Year of Construction 09.2006 – 08.2012, 211 – 306 PS, Diesel)
MERCEDES-BENZ C-Class Saloon (W204) (Year of Construction 01.2007 – 01.2014, 120 – 507 PS, Diesel, Petrol)
MERCEDES-BENZ C-Class T-modell (S204) (Year of Construction 08.2007 – 08.2014, 120 – 507 PS, Diesel, Petrol)
MERCEDES-BENZ CLC (CL203) (Year of Construction 05.2008 – 06.2011, 122 – 184 PS, Diesel, Petrol)
MERCEDES-BENZ GLK (X204) (Year of Construction 06.2008 – 06.2015, 136 – 265 PS, Diesel, Petrol)
MERCEDES-BENZ E-Class Saloon (W212) (Year of Construction 01.2009 – 12.2016, 136 – 265 PS, Diesel, Diesel/Electro, Petrol, Petrol/Natural Gas (CNG))
MERCEDES-BENZ E-Class Coupe (C207) (Year of Construction 01.2009 – 12.2016, 163 – 265 PS, Diesel, Petrol)
MERCEDES-BENZ Sprinter 4.6-T Platform/Chassis (906) (Year of Construction 06.2006 – …, 109 – 258 PS, Diesel, Petrol)
MERCEDES-BENZ E-Class Convertible (A207) (Year of Construction 01.2010 – 12.2016, 163 – 265 PS, Diesel, Petrol)
MERCEDES-BENZ SLS AMG Coupe (C197) (Year of Construction 03.2010 – …, 571 – 631 PS, Petrol)
MERCEDES-BENZ CLS Coupe (C218) (Year of Construction 01.2011 – 12.2017, 163 – 265 PS, Diesel)
MERCEDES-BENZ SLK (R172) (Year of Construction 02.2011 – …, 184 – 245 PS, Diesel, Petrol)
MERCEDES-BENZ C-Class Coupe (C204) (Year of Construction 06.2011 – …, 156 – 517 PS, Diesel, Petrol)
MERCEDES-BENZ SLS AMG Roadster (R197) (Year of Construction 06.2011 – …, 571 – 592 PS, Petrol)
MERCEDES-BENZ B-Class (W246, W242) (Year of Construction 11.2011 – 12.2018, 90 – 211 PS, Diesel, Petrol, Petrol/Natural Gas (CNG))
MERCEDES-BENZ ML-Class (W166) (Year of Construction 06.2011 – 12.2015, 204 – 258 PS, Diesel)
MERCEDES-BENZ A-Class (W176) (Year of Construction 06.2012 – 05.2018, 90 – 218 PS, Diesel, Petrol)
MERCEDES-BENZ CLS Shooting Brake (X218) (Year of Construction 10.2012 – 12.2017, 163 – 265 PS, Diesel)
MERCEDES-BENZ Citan Panel Van (W415) (Year of Construction 11.2012 – …, 75 – 110 PS, Diesel)
MERCEDES-BENZ CLA Coupe (C117) (Year of Construction 01.2013 – 03.2019, 109 – 218 PS, Diesel, Petrol)
MERCEDES-BENZ GL (X166) (Year of Construction 07.2012 – 10.2015, 258 PS, Diesel)
MERCEDES-BENZ S-Class Saloon (W222, V222, X222) (Year of Construction 05.2013 – …, 204 – 612 PS, Diesel, Diesel/Electro, Petrol, Petrol/Electro)
MERCEDES-BENZ GLA (X156) (Year of Construction 12.2013 – …, 109 – 211 PS, Diesel, Petrol)
MERCEDES-BENZ C-Class Saloon (W205) (Year of Construction 12.2013 – …, 116 – 279 PS, Diesel, Diesel/Electro, Petrol, Petrol/Electro)
MERCEDES-BENZ V-Class (W447) (Year of Construction 03.2014 – …, 136 – 190 PS, Diesel)
MERCEDES-BENZ CLA Estate (X117) (Year of Construction 01.2015 – 03.2019, 109 – 218 PS, Diesel, Petrol)
MERCEDES-BENZ GLE Coupe (C292) (Year of Construction 03.2015 – 10.2019, 258 PS, Diesel)
MERCEDES-BENZ GLE Off-Road (W166) (Year of Construction 04.2015 – 10.2018, 204 – 258 PS, Diesel)
MERCEDES-BENZ GLC Off-Road (X253) (Year of Construction 06.2015 – …, 163 – 510 PS, Diesel, Petrol, Petrol/Electro)
MERCEDES-BENZ C-Class Coupe (C205) (Year of Construction 10.2015 – …, 156 – 258 PS, Diesel, Petrol, Petrol/Electro)
MERCEDES-BENZ SLC (R172) (Year of Construction 01.2016 – …, 156 – 245 PS, Diesel, Petrol)
MERCEDES-BENZ E-Class Saloon (W213) (Year of Construction 01.2016 – …, 150 – 435 PS, Diesel, Diesel/Electro, Petrol, Petrol/Electro)
MERCEDES-BENZ C-Class Convertible (A205) (Year of Construction 06.2016 – …, 156 – 258 PS, Diesel, Petrol, Petrol/Electro)
MERCEDES-BENZ GLC Coupe (C253) (Year of Construction 06.2016 – …, 163 – 510 PS, Diesel, Petrol, Petrol/Electro)
MERCEDES-BENZ E-Class T-modell (S213) (Year of Construction 07.2016 – …, 150 – 435 PS, Diesel, Diesel/Electro, Petrol, Petrol/Electro)
MERCEDES-BENZ E-Class Coupe (C238) (Year of Construction 12.2016 – …, 163 – 435 PS, Diesel, Petrol, Petrol/Electro)
MERCEDES-BENZ E-Class All-Terrain (S213) (Year of Construction 01.2017 – …, 194 – 340 PS, Diesel)
MERCEDES-BENZ E-Class Convertible (A238) (Year of Construction 06.2017 – …, 163 – 435 PS, Diesel, Petrol, Petrol/Electro)
MERCEDES-BENZ A-Class (W177) (Year of Construction 03.2018 – …, 109 – 306 PS, Diesel, Petrol)
MERCEDES-BENZ A-Class Saloon (W177) (Year of Construction 09.2018 – …, 116 – 224 PS, Diesel, Petrol)