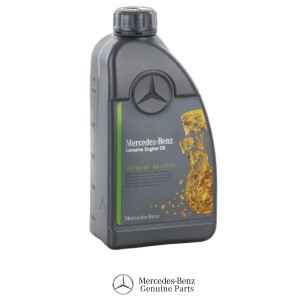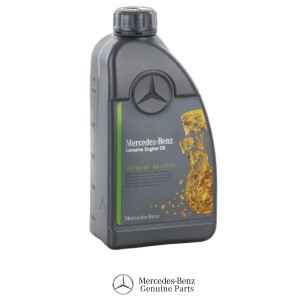 Genuine Mercedes Benz Engine Oil – 5W-30 229.51 _ 000 989 97 01
﷼6,700,000
Request for Quotation!
Made in Europe
Description
Additional information
Reviews (0)
Specifications / Specifications and Approvals:
Fitment:
Description
Product Description
The Mercedes-Benz engine oil 5W-30 MB 229.51 is the official OEM engine oil from Mercedes-Benz for MB 229.51 operating regulations.
The product, also known as "Multigrade Service Engine Oil Low SPAsh", is a modern engine oil which has been specially developed for use in petrol and diesel engines, which place increased demands on the oxidation stability of an engine oil and the requirement for reduced levels of sulphur, phosphate and sulphate ash. These are usually diesel engines with diesel particulate filter (DPF) or petrol engines with petrol engine particulate filter (OPF).
MB 229.1 vs 229.31 vs 229.51 – Which engine oil for your Mercedes?
Are you asking yourself which engine oil is the right one for your Mercedes-Benz and what are the differences between the individual approvals? We give you an overview and help you to find the right engine oil for your car in the GTV.COM Online Shop:
The Mercedes MB 229.1 approval is exclusively for vehicles without particle filter: It is approved for use in many petrol engines and partly in diesel engines without diesel particle filter.
The MB 229.31 engine oil is the first generation of approvals for engine oils introduced by Mercedes-Benz, which have the Low SPAsh property. These engine oils are therefore particularly suitable for use in vehicles with diesel engines with diesel particulate filter, but can also be used in a large number of petrol engines.
As a further development of the MB 229.31 approval, Mercedes has developed the second generation of Low SPAsh operating regulations with the MB 229.51 and MB 229.52 approvals against the background of constantly increasing demands on modern engines and their engine oils with regard to efficiency and emissions.
Applicable in a wide range of diesel and petrol engines!
An engine oil according to the MB 229.51 approval can be used in the following Mercedes diesel engines without diesel particulate filter:
OM 640 four-cylinder engine in A-class and B-class
OM 642 V6 CDI engines e.g. in E 280 CDI W 164, E 300 CDI W211, ML 300 CDI W 164
OM 646
OM 651
In addition, an engine oil of the MB 229.51 release is mandatory or can be used in the following diesel engines with diesel particle filter DPF:
V6 CDI OM 629 e.g. in E 420, S 420, ML 420
OM 640 four-cylinder engine in A-class and B-class
OM 646 four-cylinder e.g. in W204 C-Class C200 CDI and C 220 CDI, E-Class W 211 E 200 CDI and E 220 CDI
OM 651 four-cylinder engine e.g. in C-class W204, V-class, A-class W176, CLA C117, GLA X156, E-class W212
OM 642 up to model year 2016, EXCEPT: OM 642 EU6 in BR 164.124/.824, BR 251.124, BR 221 (UK), BR 222 (UK) OM 642 in BR 463.306/.336/.346 OM 642 Bin5 in BR 164.125/.825, BR 251.125 (USA and Canada only) OM 642 EU4 in BR 221.122 (UK)
In addition to the listed diesel engines, an engine oil of the MB 229.52 release will be released in the following modern petrol engines, among many others:
M 260, M 264 and M 282 4-cylinder in Mercedes A class and B class, CLA and GLB, C class, E class and CLS
V6 petrol engine M 256 with OPF in the E-Class (W213), S-Class (W 222), CLS (C 257), GLE (C 167) and AMG GT (X290 AMG GT 43) series
Which Mercedes engine oil for your car? We help!
When choosing the appropriate motor oil for your Mercedes-Benz, please consider that the compatibility information given here is only a first orientation guide. When choosing the right engine oil for your car, please pay attention to your car manual. Here you will find information on the required engine oil release in connection with viscosity for your Mercedes. These specifications are decisive for the purchase of the engine oil in our online store!
An overview of the current Mercedes-Benz engine oil approvals can be found in the Mercedes sheet of the operating instructions list 221.0.
With the help of the Mercedes sheet on operating instructions MB 223.2, you can assign all current Mercedes-Benz engine oil approvals to Mercedes Benz engines.
For the further search for your engine oil our employees are at your disposal! Contact us by e-mail or telephone and we will help you. We will be happy to assist you from the search for the right release for your vehicle to the decision support as to which of the applicable oils is most suitable for your individual use.
OEM Mercedes-Benz product
Additional information
| | |
| --- | --- |
| Weight | 0.920 kg |
| Dimensions | 22.3 × 6.3 × 11.2 cm |
| Brand | Daimler AG |
| Color | Gold, Green, Grey |
| Package | 12 |
For OE number: 000 989 97 01
Oil Viscosity Classification SAE: 5W-30
pecification:
Recommendations:
Product line: Mercedes Benz MB 229.51
Packing Type: Plastic Canister
Content [litre]: 1L / 1.06 US-Quarts
Condition: new
/
Manufacturer: Daimler AG
Mercedes Bnez Part Number. 0009899701
OE & OEM Part's: (Original Equipment & Original Equipment Manufacturer):
AIRTEX Part Number: 1430
ARAL Part Number: 1505B4, 1529F9, 15C317, 15CBE4, 14F800, 15C31A, 154FE7, 154FED, 15CBE6, 15C474,
Castrol Part Number: 14F6DB, 1535B5, 1535FA, 1534AA, 15CC0D, 1535F8, 15336D, 15BF68, 1533F1, 1533F3,
febi bilstein Part Number: 32941, 32945, 32942, 32943, 32946, 32947,
KRON Oil Part Number: 32642, 31257, 33094, 32643, 32303, 31256, 33088,
Liqui Moly Part Number: 21224, 3750, 2319, 20646, 21225, 2322, 3751, 20647, 20820, 20822, 20821
Mercedes Benz Part Number: 000 989 97 01, 000 989 97 01 01, 000 989 97 01 05, A000 989 97 01, A000 989 97 01 01, A000 989 97 01 05, 2265, 22951, 22952
MOTUL Part Number: 109455, 109222, 106376, 109220, 109456, 106377, 104775, 104777,
RAVENOL Part Number: 1111119-001-01-999, 1111137-001-01-999, 1111122-001-01-999, 1111119-004-01-999, 1111119-005-01-999, 1111122-004-01-999, 1111122-005-01-999, 1111137-004-01-999, 1111137-005-01-999
SHELL Part Number: 550046682, 550040555, 550040241, 550042845, 550042371,
Item No. N/A
Dim. (L * H * W): 22.3*11.2*6.3cm
Weight : 0.920kg
Quality: Genuine
Made in Europe
Before you purchase the product, make sure that this part fits your car!
Fits These Cars
Fits all Mercedes Benz