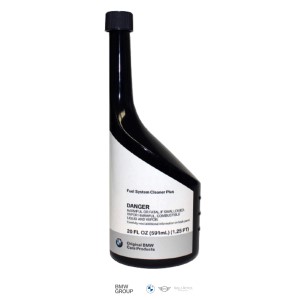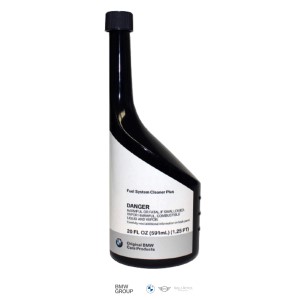 Genuine BMW Fuel System Cleaner _ 82 14 0 413 341
﷼9,800,000
Request for Quotation!
Made in Belgium
Description
Additional information
Reviews (0)
Specifications and Approvals:
Fitment:
Description
Product Description:
BMW Fuel System Cleaner is a gentle but thorough formula made with Chevron's "Techron"; a fuel system cleaning agent chosen by many OEMs Like Honda, Porsche & BMW as a safe, easy, fast and effective solution to eliminate the varnish and "gum" that builds up during the long and tough service intervals many of today's vehicles see.
This product cleans the entire fuel system from tank to combustion chamber; it can help restore lost power and performance, cleans sensors, and we have even seen it work so well its turned off check engine lights. Good stuff and a good price!
This product is a good place to start, along with a tune up, if you feel your BMW or any gasoline powered vehicle could be running better. You can also use this product to simply keep it in tip-top shape.
Works with any BMW from 1968-to current models.
*Shipping Note* cannot be shipped other than UPS ground freight.
Situation:
Recent field experiences have shown a significant increase in various drivability complaints due to excessive carbon deposits in engine's combustion chambers, on the intake valves and fuel injectors.
The overall rise in carbon deposits accumulation is generally attributed to poor gasoline quality, namely, low level of cleaning additives and fuel contamination.
Technical Background
Combustion chamber deposit formation is a by-product of the gasoline burning process. Fuel injector and intake valve deposits may become less troublesome with the recently introduced Top Tier Detergent Gasoline deposit control standards, which are exceeding the detergent requirements imposed by the EPA since 1995.
However, vehicles that do not exclusively use a Top Tier Detergent Gasoline, or are regularly driven in severe service conditions, such as stop-and-go traffic, high ambient temperatures, and high altitude can experience performance problems caused by intake system and combustion chamber deposits.
Recommendation:
BMW recommends using TOP TIER Detergent Gasoline of minimum octane rating of AKI 91 and with alcohol content of less than 10% by volume (or any other oxygenates with up to 2.8% of oxygen by weight). Only the exclusive usage of TOP TIER Detergent Gasoline provides the full benefit of reducing deposits formation. For more information, related to TOP TIER Gasoline refer to SI B13 02 06.
If the TOP TIER Detergent Gasoline is unavailable, we recommend BMW Group Fuel System Cleaner Plus (PN 82 14 0 413 341) be added to the gas tank. For optimum cleaning and deposits control, add a 20 fl. oz. bottle every 3.000 miles when refueling.
Regular use of BMW Group Fuel System Cleaner Plus can help address carbon deposits related symptoms listed above. By removing these deposits, an engine may experience restored power, performance and fuel efficiency, a smoother idle running, lower emissions, and reduced octane requirement.
BMW Group Fuel System Cleaner Plus uses polyether amine TECHRON® based technology developed and patented by Chevron. BMW Group Fuel System Cleaner Plus has proven to clean up deposits in fuel injectors, ports & intake valves and reduces the harmful effects of combustion chamber deposits. It helps restore performance lost due to deposit build-up.
Chevron and BMW have run an extensive "no harm" tests with polyether amine technology. When used as directed, it will not harm catalytic converters, oxygen sensors, or any other mechanical components of the engine, or fuel delivery system.
The effectiveness of the additive depends on its presence in the gasoline in large concentrations for short periods of time. One treatment is usually sufficient, but a second treatment (one 20 oz. bottle per each, consecutive full tank of gas) may give additional benefits. To keep your fuel intake system clean, we recommend usage at every 3000 miles.
Additionally, vehicle's fuel sending units equipped with silver plated resistor card/contacts are especially vulnerable to attacks by elemental sulfur and/or hydrogen sulfide found in fuels. Adding BMW Group Fuel System Cleaner Plus immediately upon noticing erratic fuel gauge behavior may, in many cases, restore proper performance due to the additive's ability to remove the harmful sulfur compounds from the sending unit's contact surface. Additionally, BMW Group Fuel System Cleaner Plus can help protect the fuel gauge from future malfunctioning by coating all metal surfaces of the fuel system.
Additional information
| | |
| --- | --- |
| Weight | 1.36 kg |
| Dimensions | 12.7 × 12.7 × 12.7 cm |
| Brand | BMW Group |
| Color | Black, White |
| Package | 24 |
| Size | 20 fl. oz / 591ml |
Manufacturer: BMW Group
BMW Part Number: 83195A07750, 82 14 0 413 341
OE & OEM Part's: (Original Equipment & Original Equipment Manufacturer):
Schferbarthold Part Number: 504 02 701 01 11
Dim. (L * H * W): 12.7*12.7*12.7 cm
Volume: 20 fl. oz(591ml)
Weight. 1.36 kg
Quality. Genuine
Made in Belgium
Before you purchase the product, make sure that this part fits your car!
Fits These Cars.
This product fits on both left and right hand drive BMWs.
Amount per car: 1 pcs.