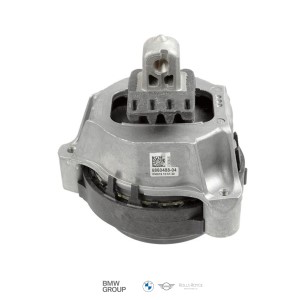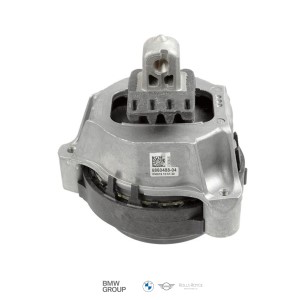 Genuine BMW Engine Mount R _ 22 11 6 860 488
﷼129,000,000
Request for Quotation!
Made in Germany
Description
Additional information
Reviews (0)
Specifications / Specifications and Approvals:
Fitment:
Description
Product Description:
Electronically Switchable Engine Mounts
Intelligent Active Engine Damping
The requirements for engine mounts are becoming more demanding. Modern engines work with cylinder shutdown, higher compression and speed reduction. They are designed to save fuel, keep up with the latest driving dynamics and to offer maximum comfort in the passenger compartment. This means minimal noise and vibration. With the self-developed 'active engine mount system', LEMFÖRDER exceeds these requirements. Electronically switchable engine mounts by LEMFÖRDER convince in every situation.
Electronically switchable engine mounts by LEMFÖRDER: this is intelligently designed engine suspension for today's and tomorrow's generation of engines.
Conventional mounts: compromises in comfort
An engine never vibrates evenly; when the vehicle is moving, completely different vibrations and noises are generated compared to when the engine is idling. This imposes different requirements on the engine mount. Therefore, conventional engine mounts always represent a compromise: either ideal damping in the neutral position or an ideal damping when the vehicle is in motion.
Switchable mounts: customizable mount harmonization
The electronically controlled engine mount by LEMFÖRDER meets both requirements: a quiet neutral position and engaged driving dynamics. The switching function causes the air suspension to be utilized in the neutral position: the mount provides soft suspension. When the vehicle is in motion, the mount switches to hydraulic suspension with a greater freedom of movement for the connected components: the mount provides a harder suspension.
Advantages of intelligent damping
The electronically switchable engine mount combines hard and soft suspension.
It improves vibrational comfort.
It improves the high frequency behavior.
The set-up of the mounts in terms of rigidity, damping positions, and neutral position behavior is customizable.
Additional information
| | |
| --- | --- |
| Weight | 1.33 kg |
| Dimensions | 14.3 × 12.7 × 12.2 cm |
| Brand | BMW Group |
| Color | Brown |
| Package | Unit |
For OE number: 22 11 6 860 488
Fitting Position: Right
Mounting Type: Hydro Bearing
Required quantity: 1
Quantity Unit: Piece
Replace in pairs only
Weight [kg]: 1.33
Condition: new
/
Manufacturer: BMW Group
BMW Part Number: 22 11 6 860 488
OE & OEM Part's: (Original Equipment & Original Equipment Manufacturer):
BMW Part Number: 22 11 6 860 488, 6 860 488
BRYMAN Part Number: 22110488
CORTECO Part Number: 49427504
CPB Part Number: 506668
LEMFÖRDER Part Number: 42567 01
MAPCO Part Number: 36443
Item No. 22116860488
Dim. (L * H * W): 14.3*12.7*12.2cm
Weight : 1.33kg
Quality: Genuine
Made in Germany
Before you purchase the product, make sure that this part fits your car!
Fits These Car
BMW 7 (G11, G12) (Year of Construction 09.2015 – …, 249 – 340 PS, Petrol)
BMW 5 Saloon (G30, F90) (Year of Construction 09.2016 – …, 163 – 252 PS, Petrol, Petrol/Electric)
BMW 5 Touring (G31) (Year of Construction 03.2017 – …, 163 – 252 PS, Petrol, Petrol/Electric)
BMW 6 Gran Turismo (G32) (Year of Construction 06.2017 – …, 249 – 258 PS, Petrol)
BMW 5 Touring Van (G31) (Year of Construction 03.2017 – …, 184 – 252 PS, Petrol)