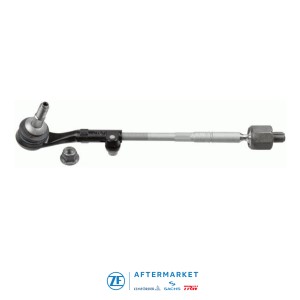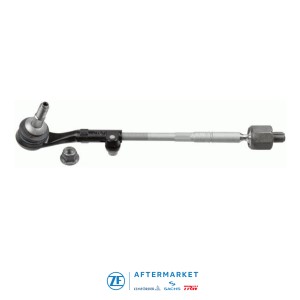 BMW Tie Rod Steering Complete L _ LEMFÖRDER 29421 01
﷼57,000,000
Request for Quotation!
Made in Germany
Description
Additional information
Reviews (0)
Specifications / Specifications and Approvals:
Fitment:
Description
Product Description:
LEMFÖRDER Tie Rods Safely on Track:
LEMFÖRDER tie rods for passenger cars, vans and light commercial vehicles ensure precise steering and safe handling. The forces introduced into the steering gear are transmitted via the inner axial joint through the tie rod to the outer ball joint, the tie rod end piece. A thread in the middle of the wheel allows for sensitive adjustment of both wheels.
The connections and joints of the tie rod in particular place high demands on the design. LEMFÖRDER offers a wide range of high-quality solutions, optimized for installation spaces and the materials. Know-how acquired over decades in research and development pays off, especially with LEMFÖRDER products for the aftermarket.
LEMFÖRDER tie rods for cars, vans and light commercial vehicles: OEM quality and function for the aftermarket.
Complete assembly featuring inner and outer tie rod ends
Your BMW's tie rod assemblies consist of two parts; the inner tie rod that connects to the steering rack and the outer tie rod which attaches to the steering knuckle. We see high mileage tie rod assemblies develop play on the inner ball joint as well as the tie rod end ball joint. Play in these assemblies results in vague steering feel and play in the steering as well. We typically recommend replacing the tie rod assemblies as a whole instead of replacing the individual components.
While driving, the following signs may indicate a faulty stabilizer link:
Rattling and thumping noises on rough roads
Imprecise vehicle handling
Stronger inclination of the vehicle during cornering
Product Information
Longevity
Accuracy of fit
Strict quality standards
Compliance with the requirements of vehicle manufacturers
Additional information
| | |
| --- | --- |
| Weight | 1.30 kg |
| Dimensions | 44 × 14 × 6 cm |
| Brand | ZF Friedrichshafen AG |
| Color | Silver |
| Package | Unit |
For OE number: 32 10 6 765 235
Fitting Position: Front Axle; Left
Paired Article Number: LEMFÖRDER 29422 01
For Steering Gear Manufacturer: ZF
Thread Size 1: M18x1.5
Thread Size 2: M14x1.5
Left-/right-hand drive vehicles: for left-hand drive vehicles
Supplementary Article/Info 2: with nut
Replace in pairs only
Weight [kg]: 1.30
Condition: new
/
Manufacturer: ZF Friedrichshafen AG
LEMFÖRDER Part Number: 29421 01
OE & OEM Part's: (Original Equipment & Original Equipment Manufacturer):
B.S Part Number: 250309
BMW Part Number: 32 10 6 765 235, 6 765 235
BRYMAN Part Number: 32212243
BSG Part Number: BSG 15-310-154
CORTECO Part Number: 49399570
FAG Part Number: 840 1384 10
febi bilstein Part Number: 27718, 40515, 46285
GSP Part Number: S100330
LEMFÖRDER Part Number: 29421 01
MAPCO Part Number: 51665
Metzger Part Number: 56010901
MEYLE Part Number: 316 030 0017/HD
MONROE Part Number: L11320
OCAP Part Number: 0592123
RIDEX Part Number: 284R0103
RTS Part Number: 90-09592-1
SIDEM Part Number: 21526
SKF Part Number: VKDY 338500
SPIDAN CHASSIS Part Number: 58403
SWAG Part Number: 20 92 7718, 20 94 0515, 20 94 6285
Topran Part Number: 501 764
TRUCKTEC Part Number: 08.37.081
TRW Part Number: JRA560
VAICO Part Number: V20-7163
Item No: 4047437099845
Dim. (L * H * W): 44*6*14cm
Weight . 1.30kg
Quality: OE
Made in Germany
Before you purchase the product, make sure that this part fits your car!
Fits These Car
BMW 1 Hatchback (E81) (Year of Construction 09.2006 – 12.2011, 90 – 265 PS, Diesel, Petrol)
BMW 3 Saloon (E90) (Year of Construction 06.2004 – 12.2011, 116 – 306 PS, Diesel, Petrol)
BMW 3 Touring (E91) (Year of Construction 12.2004 – 06.2012, 116 – 306 PS, Diesel, Petrol)
BMW 3 Coupe (E92) (Year of Construction 11.2005 – 12.2013, 122 – 326 PS, Diesel, Petrol)
BMW 3 Convertible (E93) (Year of Construction 05.2006 – 12.2013, 143 – 326 PS, Diesel, Petrol)
BMW 1 Coupe (E82) (Year of Construction 10.2007 – 10.2013, 136 – 306 PS, Diesel, Petrol)
BMW 1 Convertible (E88) (Year of Construction 03.2008 – 12.2013, 136 – 326 PS, Diesel, Petrol)
BMW Z4 Roadster (E89) (Year of Construction 05.2009 – 08.2016, 156 – 340 PS, Petrol)
BMW X1 (E84) (Year of Construction 03.2009 – 06.2015, 116 – 243 PS, Diesel, Petrol, Petrol/Ethanol)
BMW 1 Hatchback (E87) (Year of Construction 03.2003 – 09.2012, 90 – 265 PS, Diesel, Petrol)