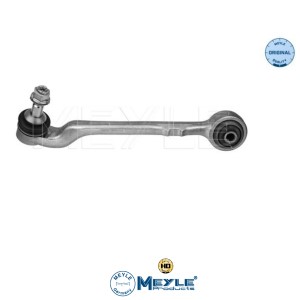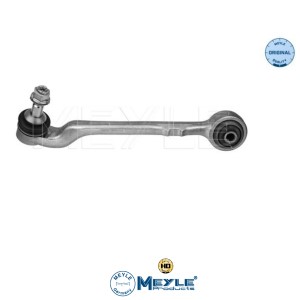 BMW Tension Strut, Front Axle L _ MEYLE 316 050 0083
﷼57,200,000
Request for Quotation!
Made in Turkey
Description
Additional information
Reviews (0)
Specifications / Specifications and Approvals:
Fitment:
Description
Product Description:
Referred to as a wishbone, should be replaced in matched pairs
Control arms are a common wear item on most vehicles and your BMW is no exception. Worn control arms cause a variety of undesirable performance issues as well as alignment problems. Generally speaking, if the inner bushing has developed play or if the outer ball joint boot has torn the control arm will need to be replaced.
GTVAUTO recommend replacing control arms in matched pairs.
Suspension Control Arm
Control arms are crucial link in a vehicle's suspension connecting the suspension to a vehicle's subframe. These pieces are usually hinged to allow for suspension to travel and articulate as the vehicle rides over obstructions in the road and while the vehicle turns. Many vehicles such as those with independent suspensions have multiple links and feature several connection points and arms to offer better ride quality and comfort.
As bushings and joints in a control arm begin to wear you may notice a looseness feel in your suspension. And while many arms have replaceable and serviceable individual components, many still require the replacement of the entire arm. Below are signs of when a replacement control arm may be needed:
Suspension Control Arm Failure Symptoms
Play in suspension joints where these arms meet the subframe and/or knuckle
Buckling noise emanating from the suspension
Uneven tire wear
Inability to properly align vehicle
Shudder or vibration coming from the steering wheel at highway speed
Wandering or pulling sensation from side to side felt on the steering wheel
Product Information
Robust construction for perfect function
Optimal fitting accuracy for easier repairs
Strict quality standards
Compliance with the requirements of vehicle manufacturers
Additional information
| | |
| --- | --- |
| Weight | 0.985 kg |
| Dimensions | 36.5 × 10.5 × 5.5 cm |
| Brand | MEYLE |
| Color | Blue |
| Package | Unit |
For OE number: 31 12 6 852 991
Fitting Position: Front Axle; Left; Lower; Rear
Control/Trailing Arm Type: Control Arm
Supplementary Article/Info 2: With Ball Joint, with rubber mounting
Material: Aluminum
Paired article number: MEYLE 316 050 0084
Replacement in pairs recommended
Product line: ORIGINAL Quality
Weight [kg]: 0.985
Condition: new
/
Manufacturer: MEYLE
MEYLE Part Number: 316 050 0083
OE & OEM Part's: (Original Equipment & Original Equipment Manufacturer):
B.S Part Number: 211828
BMW Part Number: 31 12 6 852 991
BRYMAN Part Number: 31122991, 31107329
BSG Part Number: BSG 15-315-127
CORTECO Part Number: 49395616
DELPHI Part Number: TC3609
FAG Part Number: 821 0906 10
FAI AUTOPARTS Part Number: SS7783
febi bilstein Part Number: 45093
GSP Part Number: S061616
LEMFÖRDER Part Number: 36941 01
MAPCO Part Number: 54644, 54644HPS
Metzger Part Number: 58090611
MEYLE Part Number: 316 050 0083
MONROE Part Number: L11590
OCAP Part Number: 0398086
RIDEX Part Number: 273C0982
SIDEM Part Number: 21054
SKF Part Number: VKDS 328605 B
SPIDAN CHASSIS Part Number: 51328
SWAG Part Number: 20 94 5093
Topran Part Number: 502 585
TRUCKTEC Part Number: 08.31.148
TRW Part Number: JTC1621
VAICO Part Number: V20-1509, V20-2516
Item No. 4040074165485
Dim. (L * H * W): 36.5*5.5*10.5cm
Weight . 0.985kg
Quality: OE
Made in Turkey
Before you purchase the product, make sure that this part fits your car!
Fits These Car
BMW 1 Hatchback (F20) (Year of Construction 11.2010 – 06.2019, 95 – 326 PS, Diesel, Petrol)
BMW 3 Saloon (F30, F80) (Year of Construction 03.2011 – 10.2018, 116 – 360 PS, Diesel, Petrol, Petrol/Electro)
BMW 3 Touring (F31) (Year of Construction 07.2011 – 06.2019, 116 – 360 PS, Diesel, Petrol)
BMW 1 Hatchback (F21) (Year of Construction 12.2011 – …, 95 – 320 PS, Diesel, Petrol)
BMW 3 GT (F34) (Year of Construction 07.2012 – …, 136 – 360 PS, Diesel, Petrol)
BMW 4 Coupe (F32, F82) (Year of Construction 07.2013 – …, 136 – 360 PS, Diesel, Petrol)
BMW 2 Coupe (F22, F87) (Year of Construction 10.2012 – …, 136 – 326 PS, Diesel, Petrol)
BMW 4 Convertible (F33, F83) (Year of Construction 10.2013 – …, 163 – 360 PS, Diesel, Petrol)
BMW 4 Gran Coupe (F36) (Year of Construction 03.2014 – …, 136 – 360 PS, Diesel, Petrol)
BMW 2 Convertible (F23) (Year of Construction 03.2014 – …, 136 – 326 PS, Diesel, Petrol)