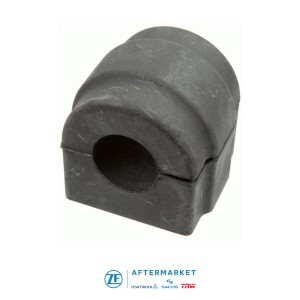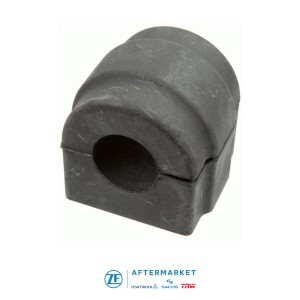 BMW Stabilizer Rubber Mounting Front _ LEMFÖRDER 39277 01
﷼13,000,000
Request for Quotation!
Made in Austria
Description
Additional information
Reviews (0)
Specifications / Specifications and Approvals:
Fitment:
Description
Product Description:
Stabilizer mounts defective?
The symptoms
Noise coming from near the axles is often difficult to locate. The many different components in a passenger car axle often make a fast, reliable diagnosis a time consuming process. The first thing to check is then normally the suspension, stabilizer links, tie rods and compression ball joints. The stabilizer is a component that tends to be overlooked during troubleshooting. Increased car noise, especially during suspension compression and rebound or when cornering may well point to worn, worn-out or otherwise defective stabilizer bearings, stabilizer mounts, stabilizer rubbers or stabilizer bushings. If a defect was determined here as the cause, fitting a new stabilizer mount can solve the issue.
The correct choice of spare parts
If replacement is necessary, you are on the safe side with LEMFÖRDER steering parts and chassis components. We guarantee:
High-quality materials down to the finest detail
Permanent safety checks during development and production
Maximum durability meaning that you will ultimately save money
This is one of the main reasons that the LEMFÖRDER brand enjoys the trust of the majority of car manufacturers.
Additional information
| | |
| --- | --- |
| Weight | 0.14 kg |
| Dimensions | 6 × 5.5 × 6 cm |
| Brand | ZF Friedrichshafen AG |
| Color | Black |
| Package | Unit |
For OE number: 31 35 6 765 574
Fitting Position: inner, Front Axle Left, Front Axle Right
Inner diameter [mm]: 26.5
replacement in pairs recommended
Weight [kg]: 0.14
Condition: new
/
Manufacturer: ZF Friedrichshafen AG
LEMFÖRDER Part Number: 39277 01
OE & OEM Part's: (Original Equipment & Original Equipment Manufacturer):
3RG Part Number: 60146
B.S Part Number: 270747
BMW Part Number: 31 35 6 765 574, 6 765 574
BRYMAN Part Number: 31355574
BSG Part Number: BSG 15-700-031
DELPHI Part Number: TD1136W
FAG Part Number: 819 0104 10
FAI AUTOPARTS Part Number: SS6333K
FEBEST Part Number: BMSB-E90F
febi bilstein Part Number: 33381
FORTUNE LINE Part Number: FZ90617
GATES Part Number: AWS2375
LEMFÖRDER Part Number: 39277 01
MAPCO Part Number: 37660, 53657/1HPS
Metzger Part Number: 52061208
MEYLE Part Number: 314 615 0005
MONROE Part Number: L11876
RIDEX Part Number: 1334A0045
SIDEM Part Number: 821808
SKF Part Number: VKDS 358500
SPIDAN CHASSIS PARTS Part's Number: 411134
SWAG Part Number: 20 93 3381
Topran Part Number: 501 794
TRUCKTEC Part Number: 08.31.129
VAICO Part Number: V20-9705
Item No. 4047437479876
Dim. (L * H * W): 6*6*5.5cm
Weight . 0.14kg
Quality: OE
Made in Austria
Before you purchase the product, make sure that this part fits your car!
Fits These Car
BMW 1 Hatchback (E81) (Year of Construction 09.2006 – 12.2011, 115 – 265 PS, Diesel, Petrol)
BMW 3 Saloon (E90) (Year of Construction 06.2004 – 12.2011, 116 – 306 PS, Diesel, Petrol)
BMW 3 Touring (E91) (Year of Construction 12.2004 – 06.2012, 116 – 306 PS, Diesel, Petrol)
BMW 3 Coupe (E92) (Year of Construction 11.2005 – 12.2013, 143 – 306 PS, Diesel, Petrol)
BMW 3 Convertible (E93) (Year of Construction 05.2006 – 12.2013, 143 – 306 PS, Diesel, Petrol)
BMW 1 Coupe (E82) (Year of Construction 10.2007 – 10.2013, 136 – 306 PS, Diesel, Petrol)
BMW 1 Convertible (E88) (Year of Construction 03.2008 – 12.2013, 136 – 306 PS, Diesel, Petrol)
BMW Z4 Roadster (E89) (Year of Construction 05.2009 – 08.2016, 184 – 340 PS, Petrol)