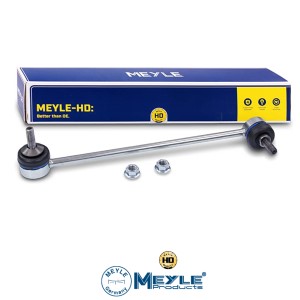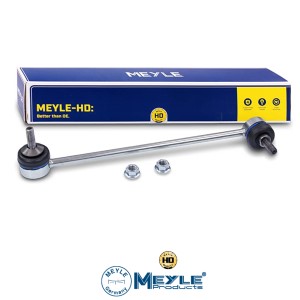 BMW Link / Coupling Rod, Stabilizer L _ MEYLE 316 060 0013/HD
﷼46,000,000
Request for Quotation!
Made in Turkey
Description
Additional information
Reviews (0)
Specifications / Specifications and Approvals:
Fitment:
Description
Product Description:
Connects the stabilizer bar to the suspension
Sway bar links, also called stabilizer bar links, are an often overlooked replacement item on most cars. Their main purpose is to attach the sway bar to the suspension as well as to "load" the sway bar when your BMW is in a corner. With age and high mileage, the sway bar link ball joints can wear out which results in front end play which can usually be heard when you travel over bumps at slow speed. We always recommend replacing sway bar links in pairs for the best service life and performance.
This HD variant from MEYLE offers a larger sway bar link with even larger ball joints. This more robust design offers a longer service life and better performance.
Suspension Stabilizer Bar Link
Sway Bar links/stabilizer bar links connect the sway bar to the chassis and are an often overlooked replacement item. With age sway bar links, particularly links with ball joints, can develop play and will make knocking noises over bumps or when rocking the vehicle from side to side. If your sway bar links are in rough shape, we recommend immediate replacement to restore handling. Always replace sway bar links in pairs.
Suspension Stabilizer Bar Link Failure Symptoms
Clunking over bumps
Clunking during turns
Excessive Body Roll
Additional information
| | |
| --- | --- |
| Weight | 0.59 kg |
| Dimensions | 47 × 8 × 8 cm |
| Brand | MEYLE |
| Color | Blue, Gold |
| Package | Unit |
For OE number: 31 30 6 781 547
Fitting Position: Front Axle Left
Rod/Strut: Coupling Rod
Length [mm]: 300
Thread Size 1: M10x1.5
Thread Size 2: M10x1.5
Supplementary Info: Quality
Supplementary Article/Supplementary Info: with spanner attachment
reinforced version
replacement in pairs recommended
MEYLE paired article number: 316 060 0014/HD
Weight [kg]: 0.59
Condition: new
/
Manufacturer: MEYLE
MEYLE Part Number: 316 060 0013/HD
OE & OEM Part's: (Original Equipment & Original Equipment Manufacturer):
B.S Part Number: 260343
AISIN Part Number: JRSBM-005L
BMW Part Number: 31 30 6 781 547, 31 35 4 014 531, 31 35 2 347 945, 31 35 6 760 985, 31 35 6 769 499
BRYMAN Part Number: 31359499
BSG Part Number: BSG 15-310-064
CORTECO Part Number: 49398906
DELPHI Part Number: TC1388
FAG Part Number: 818 0075 10
febi bilstein Part Number: 24623, 280153
GSP Part Number: S050065
LEMFÖRDER Part Number: 27149 02
MAGNETI MARELLI Part Number: 301191620570
Metzger Part Number: 53011811
MEYLE Part Number: 316 060 0073, 316 060 0013/HD
MONROE Part Number: L11622
NK Part Number: 5111527, 5111527PRO
NTY Part Number: ZLP-BM-002
RIDEX Part Number: 3229S0071
SKF Part Number: VKDS 348506
SWAG Part Number: 20 92 4623
Topran Part Number: 500 912
TRUCKTEC Part Number: 08.31.110
TRW Part Number: JTS480
VAICO Part Number: V20-7191, V20-3208, V20-2255
Item No. 4040074491294
Dim. (L * H * W): 47*8*8cm
Weight . 0.59kg
Quality: OE
Made in Turkey
Before you purchase the product, make sure that this part fits your car!
Fits These Car
BMW 5 Saloon (E60) (Year of Construction 12.2001 – 03.2010, 150 – 507 PS, Diesel, Petrol)
BMW 5 Touring (E61) (Year of Construction 03.2004 – 12.2010, 150 – 507 PS, Diesel, Petrol)