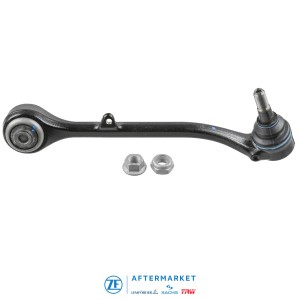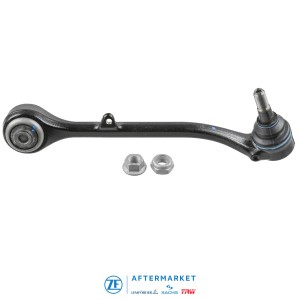 BMW Control Arm, Front Axle R _ LEMFÖRDER 27166 02
﷼66,000,000
Request for Quotation!
Made in Malaysia
Description
Additional information
Reviews (0)
Specifications / Specifications and Approvals:
Fitment:
Description
Product Description:
Securely in contact with the wheels
LEMFÖRDER provides many different, vehicle-specific types of control arms, also for complex axle constructions: from guide rods, track rods and tension struts via control arms through to suspension ball joints or supporting joints. In the case of independent suspensions, the wheel carrier can be connected to the vehicle body with up to five control arms. Depending on the customer requirement, the components are either set up for comfortable or dynamic driving properties. Depending on the construction type, either 2-point links, 3-point links or, on rare occasions, 4-point links are used. Besides steel control arms, LEMFÖRDER also develops and manufactures light, premium aluminum control arms for cars and vans.
The control arms undertake the task of wheel guidance and frequently also transfer spring, damper and stabilizer forces.
LEMFÖRDER guiding and supporting control arms
Depending on the function that a control arm assumes, either a guiding control arm or a supporting control arm is used for wheel guidance. A guiding control arm absorbs braking, driving and lateral forces. A supporting control arm supports the vehicle weight additionally. Moreover, it takes over the suspension and damping functions in the body and is designed to be more stable. Supporting control arms are often used by automotive manufacturers in the lower level of double wishbone axles and multilink rear suspensions.
LEMFÖRDER control arms offer many advantages
Accurate wheel guidance
Increased driving comfort due to vibration damping
Precise individual steering behavior which increases driving safety
Perfect wheel guidance and control arm connection due to precisely adjusted ball joints and link mounts
A defective control arm can manifest in the following ways:
Noise (squeaking, creaking, rumbling)
Deteriorating driveability
Increasingly woolly and imprecise steering
Uneven tyre wear
Tip: If the control arm is in working order, it is possible to only replace the defective bearings and joints. However, replacing bearings, control arm bushings and ball joints can be very complex and costly.
Additional information
| | |
| --- | --- |
| Weight | 1.605 kg |
| Dimensions | 40 × 9 × 15 cm |
| Brand | ZF Friedrichshafen AG |
| Color | Silver |
| Package | Unit |
For OE number: 31 10 3 451 882
Fitting Position: Front Axle; Lower; Right; Rear
Control/Trailing Arm Type: Control Arm
Material: Aluminum
Supplementary Article/Info 2: With Rubber Mounting
Supplementary Article/Supplementary Info: With Accessories
Paired article number: LEMFÖRDER 27165 02
Replacement in pairs recommended
Weight [kg]: 1.605
Condition: new
/
Manufacturer: ZF Friedrichshafen AG
LEMFÖRDER Part Number: 27166 02
OE & OEM Part's: (Original Equipment & Original Equipment Manufacturer):
B.S Part Number: 210971
BMW Part Number: 31 10 3 412 136, 31 10 3 415 028, 31 10 3 418 338, 31 10 3 426 434, 31 10 3 451 882, 31 12 0 360 276, 31 12 2 229 522
BRYMAN Part Number: 31108338
BSG Part Number: BSG 15-315-056
CORTECO Part Number: 49399359
DELPHI Part Number: TC1482
DIEDERICHS Part Number: 1127502
FAG Part Number: 821 0867 10
FAI AUTOPARTS Part Number: SS5662
febi bilstein Part Number: 177638, 26138
FLENNOR Part Number: FL603-F
GSP Part Number: S060093
LEMFÖRDER Part Number: 27166 02
MAPCO Part Number: 52649
Metzger Part Number: 58020102
MEYLE Part Number: 316 050 0016/HD, 316 050 0107/HD, 316 050 0077/HD
MONROE Part Number: L11559
OCAP Part Number: 0384214
RIDEX Part Number: 273C0596, 772S0155
SIDEM Part Number: 21078
SKF Part Number: VKDS 328576 B
SPIDAN CHASSIS Part Number: 57717
SWAG Part Number: 33 10 4228, 20 92 6138
Topran Part Number: 501 040
TRUCKTEC Part Number: 08.31.196
TRW Part Number: JTC1127
VAICO Part Number: V20-7201, V20-2833
Item No. 4047437092488
Dim. (L * H * W): 40*15*9cm
Weight : 1.605kg
Quality: OEM
Made in Malaysia
Before you purchase the product, make sure that this part fits your car!
Fits These Car
BMW X3 (E83) (Year of Construction 11.2003 – 12.2011, 136 – 286 PS, Diesel, Petrol)