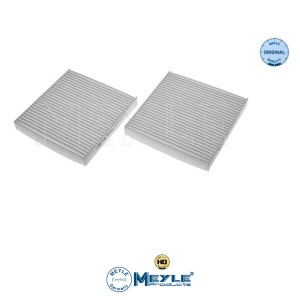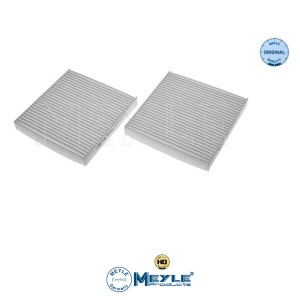 BMW Charcoal Cabin Air Filter Set _ MEYLE 312 319 0023/S
﷼12,500,000
Request for Quotation!
Made in Germany
Description
Additional information
Reviews (0)
Specifications / Specifications and Approvals:
Fitment:
Description
Product Description:
A fresh F25, F26 cabin air filter (also known as a microfilter or hepa filter) will allow you to breathe easier, and healthier, by effectively filtering out impurities through your HVAC system. A yearly replacement of your microfilter will ensure dust, pollen, soot, and pollution stay out of your BMW's interior. This cabin air filter is made by an OEM supplier to BMW and other European manufacturers and uses a multilayer, moisture-resistant filter material with an almost 100% filtration rate. Your microfilter should be replaced once a year or every 15,000 miles.
Regular, Activated Carbon, or Anti-Bacterial filter? The realities of COVID-19 demand a more proactive approach to preventing infection. MEYLE has taken the previous standard in filtration and raised the bar. Along with the well-known activated charcoal layer, this "bio functional" air filter includes another layer of silver-ion that provides additional filtering of bacteria, mold, and fungus. We offer a Good, Better, Best approach to cabin air filters – paper, charcoal, and anti-bacterial. Paper is an electrically-charged material that traps most foreign objects. Activated charcoal is chemically-treated carbon material (literally charcoal or charred wood) that does a better job than plain paper at filtering particles and odors. And the new bio functional filter uses the activated charcoal but with the extra filtering agents.
Product Information
Enhancing well-being and driving comfort
Almost complete retention of dust and pollen
Absolute accuracy of fit and stability
Best possible separation and adsorption values
Cabin Air Filter Failure Symptoms
Musty Smell from Vents
Reduced Air Flow from Vents
Dust and Debris being emitted from Vents
Additional information
| | |
| --- | --- |
| Weight | 0.120 kg |
| Dimensions | 18.7 × 18.8 × 5 cm |
| Brand | MEYLE |
| Color | Blue |
| Package | Kit |
For OE number: 64 31 9 237 158
Filter type: Particulate Filter, Filter Insert, Pollen Filter
Length [mm]: 189
Width [mm]: 187
Height [mm]: 25
Quantity Unit: Kit
Weight [kg]: 0.120
Condition: new
/
Manufacturer: MEYLE
MEYLE Part Number: 312 319 0023/S
OE & OEM Part's: (Original Equipment & Original Equipment Manufacturer):
BLUE PRINT Part Number: ADB112522
BMW Part Number: 64 31 9 312 318, 64 31 9 237 157, 64 31 9 237 158, 64 31 2 284 828, 64 31 2 284 827
BRYMAN Part Number: 64317158
BOSCH Part Number: 1 987 432 242
CHAPION Part Number: CCF0494
CORTECO Part Number: 80001776
DELPHI Part Number: TSP0325343
DIEDERICHS Part Number: DCI0214S, DCI1214S
febi bilstein Part Number: 34815
FILTRON Part Number: K 1336-2x
HENGST Part Number: E2992LI-2
K&N Part Number: VF2069
KOLBENSCHMIDT Part Number: 50014559
MAHLE Part Number: LA 630/S
MANN Part Number: CUK 19 004, CU 19 004-2
MEYLE Part Number: 312 319 0023/S
MULLER Part Number: FC469x2
PURFLUX Part Number: AH372-2
SWAG Part Number: 20 93 4815
UFI Part Number: 53.251.00
VALEO Part Number: 715714, 715713
Item No. 4040074100967
Dim. (L * H * W): 18.7*5*18.8cm
Weight : 0.120kg
Quality: OEM
Made in Germany
Before you purchase the product, make sure that this part fits your car!
Fits These Car
BMW X3 (F25) (Year of Construction 09.2010 – 08.2017, 136 – 313 PS, Diesel, Petrol)
BMW X4 (F26) (Year of Construction 04.2014 – 03.2018, 163 – 360 PS, Diesel, Petrol)