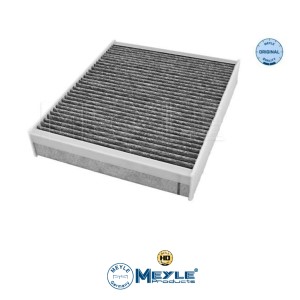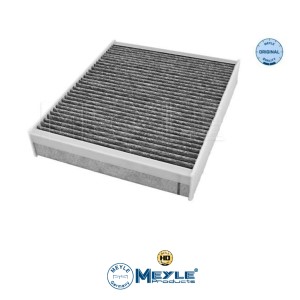 BMW Charcoal Cabin Air Filter _ MEYLE 312 320 0021
﷼12,500,000
Request for Quotation!
Made in Germany
Description
Additional information
Reviews (0)
Specifications / Specifications and Approvals:
Fitment:
Description
Product Description:
The cabin air filter makes a significant contribution to driving comfort. By cleaning the breathing air in the vehicle, it increases the driver's well-being and prevents headaches and nausea. The resulting effect on the driver's ability to concentrate also helps to better assess possible dangerous situations on the road and to be able to react appropriately.
MEYLE offers an extensive range of precisely fitting cabin air filters "Made in Germany" – naturally in OE matching quality. They contribute reliably to reducing the concentration of pollutants in the vehicle and effectively alleviating the symptoms of allergy sufferers and asthmatics. The range includes versions with a paper filter, activated carbon filter, and fleece filter whereby the best possible separation and adsorption values are guaranteed across all filter media.
Regular replacement of the cabin air filter can extend the service life of the heating, ventilation, and air-conditioning system. MEYLE recommends replacing the cabin air filter every 15,000 kilometers' but at least once a year.
Regular, Activated Carbon, or Anti-Bacterial filter? The realities of COVID-19 demand a more proactive approach to preventing infection. MEYLE has taken the previous standard in filtration and raised the bar. Along with the well-known activated charcoal layer, this "bio functional" air filter includes another layer of silver-ion that provides additional filtering of bacteria, mold, and fungus. We offer a Good, Better, Best approach to cabin air filters – paper, charcoal, and anti-bacterial. Paper is an electrically-charged material that traps most foreign objects. Activated charcoal is chemically-treated carbon material (literally charcoal or charred wood) that does a better job than plain paper at filtering particles and odors. And the new bio functional filter uses the activated charcoal but with the extra filtering agents.
Product Information
Enhancing well-being and driving comfort
Almost complete retention of dust and pollen
Absolute accuracy of fit and stability
Best possible separation and adsorption values
Cabin Air Filter Failure Symptoms
Musty Smell from Vents
Reduced Air Flow from Vents
Dust and Debris being emitted from Vents
Additional information
| | |
| --- | --- |
| Weight | 0.280 kg |
| Dimensions | 24.7 × 4 × 19.9 cm |
| Brand | MEYLE |
| Color | Blue |
| Package | Unit |
For OE number: 64 11 9 237 555
Filter type: Activated Carbon Filter, Filter Insert, with Odor Absorbent Effect
Length [mm]: 247
Width [mm]: 199
Height [mm]: 40
Weight [kg]: 0.280
Condition: new
/
Manufacturer: MEYLE
MEYLE Part Number: 312 320 0021
OE & OEM Part's: (Original Equipment & Original Equipment Manufacturer):
BLUE PRINT Part Number: ADB112518
BMW Part Number: 64 11 9 237 554, 64 11 9 237 555, 64 11 6 821 995, 64 11 9 395 845
BRYMAN Part Number: 64117555
BOSCH Part Number: 1 987 435 503, 0 986 628 543
CHAPION Part Number: CCF0440C
CORTECO Part Number: 80004354, 49408802
DELPHI Part Number: KF10019C
DIEDERICHS Part Number: DCI0226, DCI226
febi bilstein Part Number: 37114
FILTRON Part Number: K 1331A
HENGST Part Number: E2991LC, E2991LB
KOLBENSCHMIDT Part Number: 50014509
MAHLE Part Number: LAO 812, LAK 812
MANN Part Number: CUK 25 001, FP 25 001
MEYLE Part Number: 312 320 0021, 312 324 0021, 312 326 0021/PD, 312 330 0000/S
MULLER Part Number: FC440, FK440
PURFLUX Part Number: AH373, AHC373, AHH373, AHA373
SWAG Part Number: 20 93 7114
Topran Part Number: 501 914
TRUCKTEC Part Number: 08.59.096
UFI Part Number: 54.226.00, 34.226.00
VALEO Part Number: 715815, 715719, 701019
VEMO Part Number: V20-30-1048, V20-31-1048, V20-32-0003
Item No. 4040074091784
Dim. (L * H * W): 24.7*19.9*4cm
Weight : 0.280kg
Quality: OEM
Made in Germany
Before you purchase the product, make sure that this part fits your car!
Fits These Car
BMW 1 Hatchback (F20) (Year of Construction 11.2010 – 06.2019, 95 – 340 PS, Diesel, Petrol)
BMW 3 Saloon (F30, F80) (Year of Construction 03.2011 – 10.2018, 116 – 450 PS, Diesel, Petrol, Petrol/Electro)
BMW 3 Touring (F31) (Year of Construction 07.2011 – 06.2019, 116 – 360 PS, Diesel, Petrol)
BMW 1 Hatchback (F21) (Year of Construction 12.2011 – …, 95 – 340 PS, Diesel, Petrol)
BMW 3 GT (F34) (Year of Construction 07.2012 – …, 136 – 360 PS, Diesel, Petrol)
BMW 4 Coupe (F32, F82) (Year of Construction 07.2013 – …, 136 – 500 PS, Diesel, Petrol)
BMW 2 Coupe (F22, F87) (Year of Construction 10.2012 – …, 136 – 370 PS, Diesel, Petrol)
BMW 4 Convertible (F33, F83) (Year of Construction 10.2013 – …, 163 – 340 PS, Diesel, Petrol)
BMW 4 Gran Coupe (F36) (Year of Construction 03.2014 – …, 136 – 340 PS, Diesel, Petrol)
BMW 2 Convertible (F23) (Year of Construction 03.2014 – …, 136 – 326 PS, Diesel, Petrol)