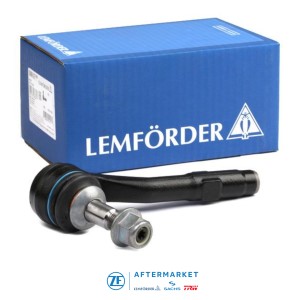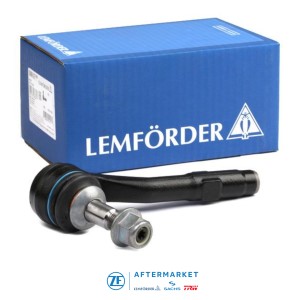 BMW Ball Joint Outer Tie Rod Front Axle R & L _ LEMFÖRDER 25896 02
﷼32,000,000
Request for Quotation!
Made in Germany
Description
Additional information
Reviews (0)
Specifications / Specifications and Approvals:
Fitment:
Description
Product Description:
LEMFÖRDER Tie Rods Safely on Track
The ideal connection between steering system and steering knuckle
Optimum straight-line running of a car ensures driving comfort, controllability and reduced tire wear. To ensure that passenger cars, vans and light commercial vehicles always stay on the ideal track, high-quality LEMFÖRDER tie rods should always be used for repairs. They perfectly transfer the steering movements of the driver to the front wheels of the vehicle and enable the workshop to adjust the toe-in precisely and sensitively.
The tie rod end
The wheel-side angle joint transmits the radial forces from the tie rod to the steering knuckle. Complex axle configurations place high demands on the design of tie rod ends.
LEMFÖRDER offers its customers solutions optimized with regard to installation space and material. This expertise is used for the production of quality-tested spare parts.
Steering Tie Rod Assembly Failure Symptoms
Uneven tire wear
Play in wheels
Pulling condition when driving
Sloppy steering
Poor Steering Response
Torn Ball Joint Boots
The correct choice of spare parts
If replacement is necessary, you are on the safe side with LEMFÖRDER steering parts and chassis components. We guarantee:
High-quality materials down to the finest detail
Permanent safety checks during development and production
Maximum durability meaning that you will ultimately save money
This is one of the main reasons that the LEMFÖRDER brand enjoys the trust of the majority of car manufacturers.
Additional information
| | |
| --- | --- |
| Weight | 0.696 kg |
| Dimensions | 20 × 12 × 8 cm |
| Brand | ZF Friedrichshafen AG |
| Color | Blue, Black |
| Package | Unit |
For OE number: 32 10 6 776 946
Fitting Position: Front Axle; Left and right
Supplementary Article/Info 2: With Nut
Internal Thread Size: M16 x 1.5
External Thread Size: M14 x 1.5
Replace in pairs only
Weight [kg]: 0.696
Condition: new
/
Manufacturer: ZF Friedrichshafen AG
LEMFÖRDER Part Number: 25896 02
OE & OEM Part's: (Original Equipment & Original Equipment Manufacturer):
B.S Part Number: 230612
AISIN Part Number: JTRBM-001
BLUE PRINT Part Number: ADH28708
BMW Part Number: 32 10 6 774 361, 32 10 6 776 946, 32 21 6 756 369
BRYMAN Part Number: 32216369
BSG Part Number: BSG 15-310-012
CORTECO Part Number: 49398950
DELPHI Part Number: TA1906
DENCKERMANN Part Number: D130161
DIEDERICHS Part Number: 1122406
ESEN SKV Part Number: 04SKV423
FAG Part Number: 840 0680 10
FAI AUTOPART'S Part Number: SS2030
febi bilstein Part Number: 29321, 27204, 40522
FLENNORE Part Number: FL0129-B
FORTUNE LINE Part Number: FZ1315
LEMFÖRDER Part Number: 25896 02
Metzger Part Number: 54010908
MEYLE Part Number: 316 030 0002
MONROE Part Number: L11124, L11113
NK Part Number: 5031526
OCAP Part Number: 0283844
QUARO Part Number: QS7571/HQ
SIDEM Part Number: 21530
SKF Part Number: VKDY 318510
SPIDAN CHASSIS Part Number: 57073
SWAG Part Number: 20 92 9321, 20 92 7204, 20 94 0522
TEKNOROT Part Number: B-664
Topran Part Number: 503 078, 500 923
TRUCKTEC Part Number: 08.37.063
TRW Part Number: JTE1063
VAICO Part Number: V20-0545, V20-2255
Item No. 4047437083882
Dim. (L * H * W): 20*8*12cm
Weight : 0.696kg
Quality: OEM
Made in Germany
Before you purchase the product, make sure that this part fits your car!
Fits These Car
BMW 7 (E65, E66, E67) (Year of Construction 11.2001 – 08.2008, 218 – 445 PS, Diesel, Petrol)
BMW 5 Saloon (E60) (Year of Construction 12.2001 – 03.2010, 150 – 507 PS, Diesel, Petrol)
BMW 5 Touring (E61) (Year of Construction 03.2004 – 12.2010, 150 – 507 PS, Diesel, Petrol)
BMW 6 Coupe (E63) (Year of Construction 01.2004 – 07.2010, 258 – 507 PS, Diesel, Petrol)
BMW 6 Convertible (E64) (Year of Construction 03.2004 – 07.2010, 258 – 507 PS, Diesel, Petrol)