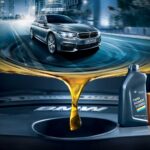 Oil Change Kit
Description
Genuine BMW Oil Change Kits:
We've taken the guesswork out of oil changes – our oil change kits include all parts required for a complete oil change in your BMW! Included in our model specific kits are a Genuine BMW oil filter set with gaskets, the required quantity of Genuine BMW engine oil, and FREE IRAN Ground Shipping!
For a long engine life: Original BMW Oil Filters clean the oil with outstanding efficiency and protect your BMW engine from damage; ensuring you enjoy the unique dynamics of your BMW in the future as much as you did on the first day. Original BMW Engine Oils are developed exclusively for BMW to meet the specifications of the new BMW Twin Power Turbo engine generation. They are manufactured, tested and approved to be the only oils worthy of The Ultimate Driving Machine. BMW has taken the "crude" out of our engine oil, formulating its base oils purely from natural gas. The result: crystal clear base oils with virtually none of the impurities found in crude oil. It's a major breakthrough in how engine oils are formulated, providing enhanced viscosity, reduced friction and lower volatility. They're the best choice of oils to use for all BMWs!
Looking for individual bottles of oil, other BMW Fluids, or Car Care Products? Shop for those here: