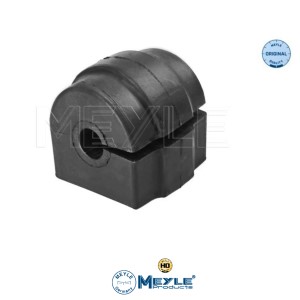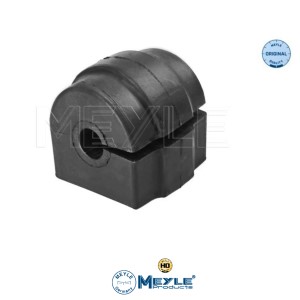 BMW Stabilizer Rubber Mounting Rear _ MEYLE 314 615 0024
﷼10,500,000
Request for Quotation!
Made in PRC
Description
Additional information
Reviews (0)
Specifications / Specifications and Approvals:
Fitment:
Description
Product Description:
Vehicle Repairs. We've Got What It Takes.
The greatest challenge for modern, technologically complex vehicles is the balance between performance, economy, and environmental compatibility. However, many of the roads they drive on are far from perfect. As a result, the chassis and the steering are often subjected to extreme loads, which accordingly increases the quality demands placed on wear parts.
Steering parts in particular are subject to special care in design, manufacturing, and assembly. In order to maintain stable road holding, even in hazardous situations, all installed steering parts must meet the high requirements of precise and high-quality production.
With a large selection of safety-relevant steering components, including anti roll bar bushes, MEYLE makes a contribution to road safety.
Product Information
Robust construction for perfect function
Optimal fitting accuracy for easier repairs
Strict quality standards
Compliance with the requirements of vehicle manufacturers
Additional information
| | |
| --- | --- |
| Weight | 0.080 kg |
| Dimensions | 4 × 4 × 4.5 cm |
| Brand | MEYLE |
| Color | Black |
| Package | Unit |
For OE number: 33 55 6 761 001
Fitting Position: inner, Rear Axle Left, Rear Axle Right
Inner diameter [mm]: 11
Supplementary Info: ORIGINAL Quality
Replacement in pairs recommended
Weight [kg]: 0.080
Condition: new
/
Manufacturer: MEYLE
MEYLE Part Number: 314 615 0024
OE & OEM Part's: (Original Equipment & Original Equipment Manufacturer):
3RG Part Number: 60158
B.S Part Number: 271726
BMW Part Number: 33 55 6 761 001, 6 761 001
BRYMAN Part Number: 33551001
CORTECO Part Number: 80004942
DANCKERMANN Part Number: D130146
FAI AUTOPARTS Part Number: SS6337K, SS6334K
febi bilstein Part Number: 37330
FORTUNE LINE Part Number: FZ91842
MAPCO Part Number: 38615, 57665HPS
MEYLE Part Number: 314 615 0024
SIDEM Part Number: 821924
SPIDAN CHASSIS PARTS Part's Number: 412910
SWAG Part Number: 20 93 7330
Topran Part Number: 502 138
TRUCKTEC Part Number: 08.30.091
VAICO Part Number: V20-3107
Item No. 4040074145982
Dim. (L * H * W): 4*4.5*4cm
Weight . 0.080kg
Quality: OEM
Made in PRC
Before you purchase the product, make sure that this part fits your car!
Fits These Car
BMW 5 Touring (E61) (Year of Construction 03.2004 – 12.2010, 150 – 367 PS, Diesel, Petrol)
BMW 1 Hatchback (E81) (Year of Construction 09.2006 – 12.2011, 90 – 258 PS, Diesel, Petrol)
BMW 3 Saloon (E90) (Year of Construction 06.2004 – 12.2011, 116 – 306 PS, Diesel, Petrol)
BMW 3 Touring (E91) (Year of Construction 12.2004 – 06.2012, 116 – 306 PS, Diesel, Petrol)
BMW 3 Coupe (E92) (Year of Construction 01.2007 – 12.2013, 122 – 170 PS, Petrol)
BMW 3 Convertible (E93) (Year of Construction 05.2006 – 12.2013, 184 – 306 PS, Diesel, Petrol)
BMW 1 Coupe (E82) (Year of Construction 10.2007 – 10.2013, 136 – 306 PS, Diesel, Petrol)
BMW 1 Convertible (E88) (Year of Construction 03.2008 – 12.2013, 156 – 326 PS, Petrol)
BMW 1 Hatchback (E87) (Year of Construction 03.2005 – 09.2012, 122 – 258 PS, Petrol)