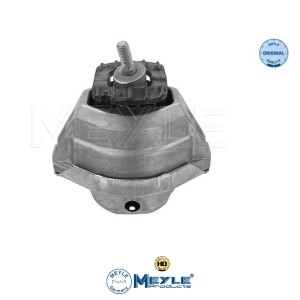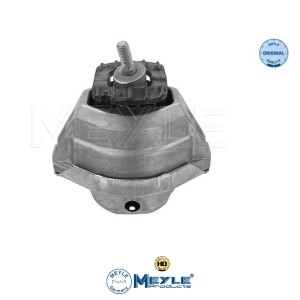 BMW Engine Mount L _ MEYLE 300 221 1124
﷼51,000,000
Request for Quotation!
Made in Poland
Description
Additional information
Reviews (0)
Specifications / Specifications and Approvals:
Fitment:
Description
Product Description:
Noticing excessive driveline vibration?
If so, it is likely due to worn engine mounts. We recommend regular inspection of these mounts and to inspect for any play. We have seen badly worn engine mounts split entirely causing damage to the engine supports in the process.
Note: Replace in pairs, hardware not included
Engine Mount
Engine mounts are designed to keep your engine and transmission supported and fixed to your vehicles frame or sub-frame without causing excessive vibrations that can enter the cabin. Engine mounts keep your drive-train properly aligned and if failed can promote drive train vibrations and premature component wear. Over time, your engine mounts deteriorate resulting in extra engine noise, engine rocking, a less enjoyable driving experience, and thus must be replaced.
Engine Mount Failure Symptoms
Engine Vibration
Drivetrain Vibration
Uneven Engine surface
Engine Rock during gear changes
Engine Rock during braking
Product Information
Specific rubber compound reliability prevents vibrations
Optimal fitting accuracy for easier repairs
Strict quality standards
Compliance with the requirements of vehicle manufacturers
Additional information
| | |
| --- | --- |
| Weight | 1.27 kg |
| Dimensions | 11.1 × 14 × 14.9 cm |
| Brand | MEYLE |
| Color | Blue |
| Package | Unit |
For OE number: 22 11 6 761 089
Fitting Position: Left
Material: Elastomer
Mounting Type: Hydro Bearing
Supplementary Info: ORIGINAL Quality
Paired Article Number: MEYLE 300 221 1125
Quantity Unit: Piece
Replace in pairs only
Weight [kg]: 1.27
Condition: new
/
Manufacturer: MEYLE
MEYLE Part Number: 300 221 1124
OE & OEM Part's: (Original Equipment & Original Equipment Manufacturer):
3RG Part Number: 40141
BMW Part Number: 22 11 6 761 089
BOGE Part Number: 88-465-A
BRYMAN Part Number: 22111089
CORTECO Part Number: 80001378
DYS Part Number: 71-22118
febi bilstein Part Number: 24080
FORTUNE LINE Part Number: FZ91038
GSP Part Number: 512292
LEMFÖRDER Part Number: 29826 01
MAPCO Part Number: 37691
MEYLE Part Number: 300 221 1124
NK Part Number: 59715003
OPTIMAL Part Number: F8-8343
REINHOCH Part Number: RH11-3050
RIDEX Part Number: 247E0377
SASIC Part Number: 2706237
SWAG Part Number: 20 92 4080
TEDGUM Part Number: 00089835
TRUCKTEC Part Number: 08.22.029
VAICO Part Number: V20-0495
Item No. 4040074054000
Dim: (L * H * W): 11.1*14.9*14cm
Weight : 1.27kg
Quality: OEM
Made in Poland
Before you purchase the product, make sure that this part fits your car!
Fits These Car
BMW 5 Saloon (E60) (Year of Construction 12.2001 – 03.2010, 170 – 306 PS, Petrol)
BMW 5 Touring (E61) (Year of Construction 06.2004 – 12.2010, 177 – 272 PS, Petrol)
BMW 6 Coupe (E63) (Year of Construction 02.2004 – 07.2007, 258 PS, Petrol)
BMW 6 Convertible (E64) (Year of Construction 03.2004 – 07.2007, 258 PS, Petrol)