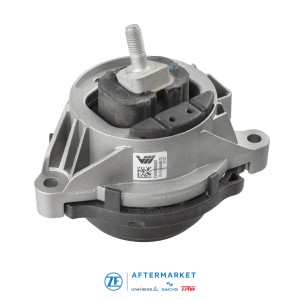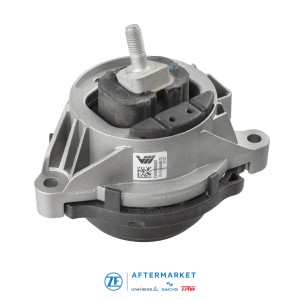 BMW Engine Mount L _ LEMFÖRDER 36991 01
﷼80,000,000
Request for Quotation!
Made in Germany
Description
Additional information
Reviews (0)
Specifications / Specifications and Approvals:
Fitment:
Description
Product Description:
More Comfort in the Passenger Cabin
A solid combination of rubber and metal creates multifunctional LEMFÖRDER automotive components that transmit forces, enable defined movements, isolate noise and dampen vibrations. Therefore, vibrations and noise caused by the transmission or the engine are hardly noticeable in modern vehicles – thanks to vibration-optimized concepts with innovative and safe powertrain mounts.
Secure fixation – pleasant damping
LEMFÖRDER rubber bearings for the driveline securely fixate the engine and transmission and increase the ride comfort for the passengers. The metal-to-rubber components in the driveline include engine mounts, transmission mounts, and torque support arms.
They form the damping connection of the engine and transmission with the chassis and secure the units in all driving situations. Furthermore, the bearings ensure that the driver and the passengers are protected against bothersome vibrations and noises.
Nowadays, the LEMFÖRDER rubber-bonded metal mounts are also used for harmonizing the engine timbre.
As a connection between the engine and the body, engine mounts absorb the static engine load. They limit the engine movement, thus ensuring a damping of the vibration and structure-borne noise transfer into the body.
Benefits of LEMFÖRDER engine mounts:
Engine mount individually aligned to the engine perfomance
Complex and harmonized internal structure
With hydraulic engine mounts, the hydraulic function takes care of the damping
A worn or defective strut mount can be recognized by various symptoms. These include:
Squeaking during spring movements of the chassis
Poor cornering
Crackling noises during steering wheel movements
Restricted resetting of the steering after cornering
Knocking sounds when driving over uneven surfaces
If the suspension strut mount has been checked and a defect has been detected, like other chassis components, suspension strut mounts should always be replaced in pairs.
Additional information
| | |
| --- | --- |
| Weight | 0.89 kg |
| Dimensions | 14.7 × 13.1 × 13.2 cm |
| Brand | ZF Friedrichshafen AG |
| Color | Blue |
| Package | Unit |
For OE number: 22 11 6 856 183
Fitting Position: Left
Mounting Type: Hydro Bearing
Material: Metal, Elastomer, Plastic
Required quantity: 1
Quantity Unit: Piece
Replace in pairs only
Weight [kg]: 0.89
Condition: new
/
Manufacturer: ZF Friedrichshafen AG
LEMFÖRDER Part Number: 36991 01
OE & OEM Part's: (Original Equipment & Original Equipment Manufacturer):
AT autoteile germany Part Number: at11706
BMW Part Number: 22 11 6 856 183, 22 11 6 868 489
BRYMAN Part Number: 22116183
CORTECO Part Number: 80004446
DYS Part Number: 71-27459
febi bilstein Part Number: 39008
LEMFÖRDER Part Number: 36991 01
MEYLE Part Number: 300 221 1165
NK Part Number: 59715032
SASIC Part Number: 2706485
SWAG Part Number: 20 93 9008
TEDGUM Part Number: TED11139
Topran Part Number: 503 662
TRUCKTEC Part Number: 08.22.055
VAICO Part Number: V20-3226
Item No. 4047437414945
Dim. (L * H * W): 14.7*13.2*13.1cm
Weight : 0.89kg
Quality: OE
Made in Germany
Before you purchase the product, make sure that this part fits your car!
Fits These Car
BMW X3 (F25) (Year of Construction 08.2011 – 08.2017, 170 – 245 PS, Petrol)
BMW 1 Hatchback (F20) (Year of Construction 01.2011 – 02.2015, 143 – 200 PS, Diesel)
BMW 3 Saloon (F30, F80) (Year of Construction 05.2011 – 10.2018, 182 – 252 PS, Petrol)
BMW 3 Touring (F31) (Year of Construction 01.2012 – 06.2019, 143 – 252 PS, Diesel, Petrol)
BMW 1 Hatchback (F21) (Year of Construction 01.2012 – …, 143 – 200 PS, Diesel)
BMW 3 GT (F34) (Year of Construction 11.2012 – …, 163 – 252 PS, Diesel, Petrol)
BMW 4 Coupe (F32, F82) (Year of Construction 07.2013 – …, 163 – 252 PS, Petrol)
BMW 4 Convertible (F33, F83) (Year of Construction 03.2016 – …, 252 PS, Petrol)
BMW 4 Gran Coupe (F36) (Year of Construction 03.2014 – …, 163 – 252 PS, Petrol)
BMW X4 (F26) (Year of Construction 04.2014 – 03.2018, 184 – 245 PS, Petrol)